WHERE IS THE RIDGEWAY? This ancient track runs south-west to north-east through the heart of England, from just outside the prehistoric settlement of Avebury along the Wessex Downs to Ivinghoe Beacon in the Chiltern Hills.
HOW LONG IS THE RIDGEWAY? 87 miles
HOW LONG DOES IT TAKE TO WALK THE RIDGEWAY? 5-9 days
WHERE DOES THE RIDGEWAY BEGIN?  Avebury, Wiltshire.
AND WHERE DOES IT END? Ivinghoe Beacon, Buckinghamshire
IS IT A NATIONAL TRAIL: Yes
HOW HARD IS THE RIDGEWAY? Easy; there are a couple of 'uppy-downy' bits but it's a short walk, difficult to lose your way and very straightforward.
The Ridgeway does have a bit of a reputation amongst some trekkers for being a bit, well, 'beige'. Even my publisher was a little incredulous when I asked if I could update the next edition of the Ridgeway guide book, informing me that it 'wasn't a very exciting trail'.
But regardless of whether I think his opinion is correct or not, (and, just for the record, I don't), you have to remember that people tackle national trails for many, many different reasons – and not everybody wants excitement from their walk.
The bottom line is that I think there's a lot to like about the Ridgeway; and there are some areas in which this trail truly excels. Chief among them, of course, is in the field of prehistoric sites. The most spectacular of these Neolithic monuments is the Stone Circle at Avebury; but before the first day of your trek is over you'll have visited the huge Iron Age forts of Barbury and Liddington castles, as well as the exquisitely preserved Neolithic long barrow of Wayland's Smithy. Push on for a few miles more and you find yourself walking above the Uffington White Horse – a 100m-long stylised horse formed of trenches filled with crushed chalk. It really is an extraordinary landscape. 
Should you 'do' the Ridgeway?
Useful info for Ridgeway walkers
Transport to and from the Ridgeway
Getting to Avebury by public transport is straightforward though time-consuming. The village is served by bus from Marlborough (currently bus No 42) and Swindon (bus No 49). You've still got to get the start of the trail, on the A4, from there – a walk of a couple of miles.
In the guide book you'll find four different ways to get from Avebury to the trail; one of which takes you past some of the other Neolithic sites around Avebury, one of which takes you to the start of the trail in the quickest possible time – and two of which don't actually take you to the start of the trail but join it a mile or two along the path from the start.
At the other end of the trail, however, things are even more tricky. Ivinghoe Beacon is not served by any public transport and, what's more, the nearest town that does have some sort of bus service (Ivinghoe) is over a mile away along a fast, busy, pavement-less road. It's really not a pleasant walk. If you can arrange a lift from your loved one then do so – or arrange a taxi if not.
Even when you get to Ivinghoe you'll probably have to wait for the infrequent bus (thankfully there's a pleasant café to wile away the hours) to take you to Tring, and from there you can catch a train to London and elsewhere.
Transport along the Ridgeway
There is some sort of bus service serving just about every part of the trail. Buses are fairly frequent and reliable as you'd expect from a part of the country that is, after all, pretty well populated.
Trains, however, are another matter. Goring, halfway along the trail where the Ridgeway crosses the Thames, has a station, as does Nuffield and, about three-quarters along the path, Princes Risborough and, even further, Wendover. But nowhere else.
Walking the Ridgeway with a dog
We genuinely think that this is the best walk for your dog. The main reason for this is that the path – which is actually a track for most of its length – is separated from the landscape that you pass through by large hedges, fences etc. In other words, whereas on most trails you spend much of your time passing through cow and sheep fields, on the Ridgeway I can think of only a couple of places where Daisy and cattle were forced to share the same space.
True, there are still plenty of places where you'd be wise to keep your dog on a lead – near the Neolithic sites, and alongside the horse tracks (of which there are several), and of course in the towns and by roads. You must also pay attention to those parts of the trail where 4WD vehicles and mountain bikes are also allowed.
But, overall, there are some large sections where you can let your dog run unfettered, safe in the knowledge that it can't come to too much harm. And it's lovely to watch them rejoice in their freedom.
(Follow this link for general information on taking your dog on a long-distance trail.)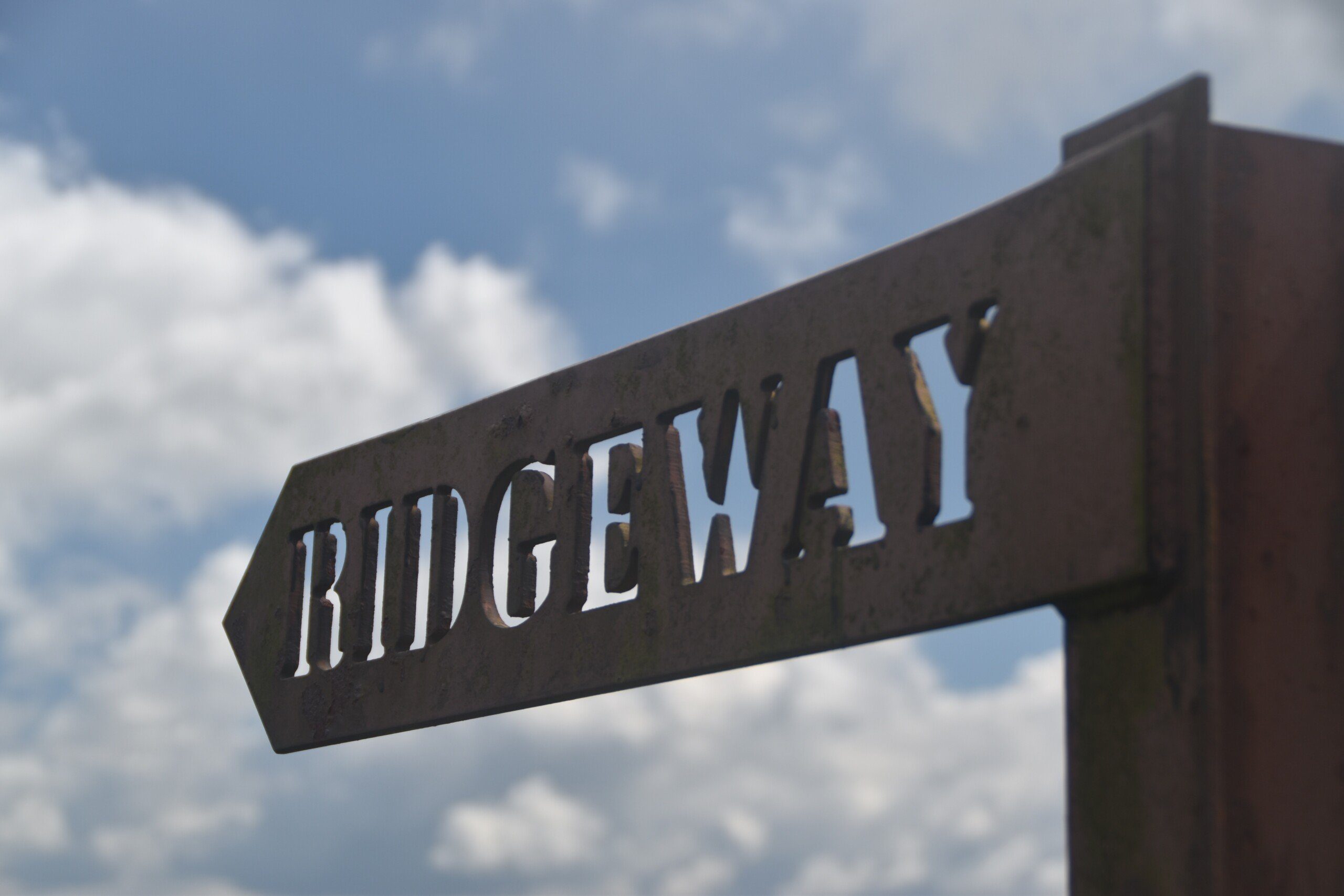 So where might you get lost? I struggle to think of anywhere where you can get lost on the Ridgeway. This path, after all,  has been in use for several thousand years, and all of those pairs of feet have carved a bl**dy great track along the hilltops – much of it rendered in a blinding white chalk! I think the trickiest parts maybe where you enter and leave towns where the signage isn't as good as elsewhere on the trail. There and at the very, very end of the walk – literally the last 500m or so – where clearly the budget for signposts ran out and you're left to find your own way to the finishing line. (Either that, or some people who've just completed the entire trail have taken a signpost as a souvenir.)
Camping and accommodation along the Ridgeway
Camping at official campsites along the Ridgeway is not possible along the entire length of the trail. Indeed, there are actually no official campsites along the trail; and the first campsite that could conceivably be said to serve the trail is at Sparsholt Firs, over half a mile from the path and almost 24 miles into the walk.
The situation is not helped by bunkhouses and youth hostels, which are equally scarce. In fact, there's just one of each (the bunkhouse – which is at least a goodie – is at Court Hill , while the youth hostel is at Streatley).
As for B&Bs and hotels, they are more plentiful and, given the above, will probably be what you'll rely on for most of the time, if not all of it.
Facilities along the Ridgeway
Food and drink With several reasonably sized towns en route, finding somewhere to eat and drink along the second half of the Ridgeway, from Goring onwards, isn't hard. Things are much trickier on the first half of the trail, however; the first place right on the Ridgeway where you can sit down and have something to eat is at Foxhill, 16 miles into the walk; and even then it's just an Indian restaurant with no other facilities nearby. Judicious planning is thus required to make sure you don't go too hungry or thirsty on this first part of the trail.
Shops, post offices and ATMs Once again, the Ridgeway is a game of two halves when it comes to the facilities available en route. From the start of the trail near Avebury there are no cash machines, post offices or shops situated on the route until Goring. True, there are a couple of post offices lying off the trail on this section, which also double as shops, of course; and for many people the post office can act as an ATM as well (you can get money out of most post offices if you have the right debit card). But walking downhill for a mile or two – and then a mile or two back up again – is a bit of a faff just for a bit of cash. After Goring, however, things get a lot easier and you'll pass through several big towns and villages which have all of these facilities.
Trekking companies and baggage carriers The Ridgeway is not a popular trail – at least, it's not one that people try to complete in one go – and for this reason, perhaps, there aren't a huge number of trekking companies that serve this route. I found only one company offering guided tours, for example, and only a couple of small operators offering baggage transfer  – and one of those only serves the first half of the walk. There are at least a dozen companies offering self-guided walks, however. The book has details of the major companies offering their services on this route.
Probably the biggest danger on the Ridgeway is that there's a greater possibility of being mown down on this route by a 4×4 or a motorbike than on any other trail I can think of. That said, I admit that I have never heard about anyone being hit by a vehicle on the trail. But the combination of motorised transport and pedestrians on a relatively thin, slippery trail is not an entirely sensible one and, if there hasn't been any accidents yet then, well, it's surely only a matter of time.
On that subject, you may also want to keep a look out for horses and mountain bikes that also share the trail for some sections.
Do be prepared and bring plenty of water with you, particularly for the first part of the trail. The lack of shops (see above) is quite striking on this section and on a hot day, with all that climbing, it's easy to get dehydrated without really recognising that it's happening to you.
Do try to make some time to visit the Neolithic sites surrounding Avebury before you head off on the trail itself. In the book we describe a tour you can make around all these 'minor sites' that lie – metaphorically – in the shadow of the village's great stone circle but are interesting to visit nevertheless. Places such as the West Kennet Long Barrow, West Kennet Avenue and Silbury Hill can all be walked to and around in a two-hour tour and you can also take in a couple of minor tumuli too. 

If you're driving to and from the trail, don't take the quickest route but instead try to drive through some of the towns and villages that serve the path. Some are very pretty. Uffington, in particular, springs to mind, being both fascinating and cute – plus, of course, it gives you the opportunity to see the White Horse, as it should be seen, from the valley below.
The Ridgeway: Further info
'One of the best available' The Friends of the Ridgeway, Summer Newsletter, 2017 
The best features are the maps' The Friends of the Ridgeway
Practical guide to walking the whole of the Ridgeway National Trail. The Ridgeway path begins near Avebury, Wiltshire, and runs 87 miles finishing at Ivinghoe Beacon near Aylesbury, Buckinghamshire.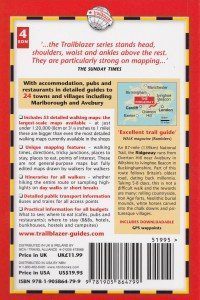 This Ridgeway national trail guide includes:
* Ridgeway map, 53 large-scale maps (1:20,000), guides to 24 towns and villages.
* Detailed accommodation with reviews: campsites, B&Bs, hotels, hostels and bunkhouses.
* Places to eat with reviews: cafés, teashops, pubs and restaurants.
* Detailed public transport information.
* Itineraries for all walkers including day Ridgeway walks.
* Downloadable GPS waypoints.
* Colour overview maps and profiles showing ascents and descents.
* Colour photos including 4-page flower and butterfly guide.
Buy the book:
To buy the book from Amazon.co.uk, please click the link below: