Hopping back and forth across the border as you follow an ancient earthwork separating England from Wales
WHERE IS THE PATH? This is a north-south (or south-north) trail that follows the course of Offa's Dyke, an ancient earthwork that in many places marks the border between England and Wales.
HOW LONG IS IT? 177 miles
HOW LONG DOE IT TAKE TO WALK?
12-14 days
IS IT A NATIONAL TRAIL: Yes
WHERE DOES IT START? Prestatyn, a seaside resort on the North Wales coast.
AND WHERE DOES IT END? Sedbury Cliffs, just outside Chepstow and overlooking the Severn Estuary.
HOW HARD IS IT? A pretty taxing rural trail, with lots of hills and the odd remote section. The weather can close in fast too, particularly in the more mountainous sections, making navigation more difficult.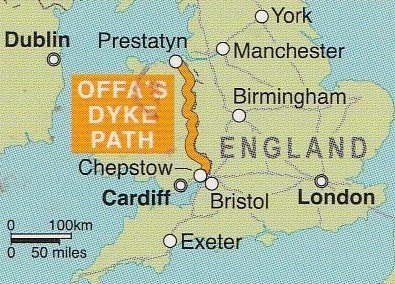 King Offa became king of Mercia in 757AD and quickly made it the most successful of the seven kingdoms of England at that time.  Having failed to properly subdue the Welsh, however, he decided instead to build a permanent barrier along the frontier. It is that barrier that today we call Offa's Dyke. (Whether Offa was actually responsible for the dyke remains something of a moot point, and in the guide book we look more closely at the dyke's history. But such matters need not concern us right now.) 
Though the National Trail is named after the dyke, and follows the earthwork fairly faithfully, in one sense the path's title is a little disingenuous. Because you shouldn't decide to tackle the Offa's Dyke Path if you think you're going to spend two weeks in the company of an ancient monument. For the truth of the matter is that the earthwork of Offa's Dyke seldom puts in an appearance along the trail, and even when it does it's barely noticeable. (The picture here is one of the few places where the Dyke – that dip in the land that you can see – is relatively obvious.)
So if you want a trek that's laced with ancient history, go to Hadrian's Wall, where the Roman barrier, though still far from whole, is far more complete and spectacular….
[read more]
But if you hanker after a fortnight's hike through some scrumptious scenery, then the Offa's Dyke could well be the path for you.
Starting at the unpromising coastal resort of Prestatyn, the path quickly climbs steeply away from civilisation and into a lovely rural setting of farms and fields. And it just gets better throughout that first day – and remains beautiful for pretty much the entire fortnight. Because the border country between Wales and England is one of Britain's best-kept secrets, an ancient pastoral landscape with and dotted with several historic towns and villages.
One of the greatest joys of this walk is that while the scenery is uniformly bucolic and beautiful, there is a lot of variety too. From the splendid ridge of the Clwydian Hills to the limestone cliffs of Stack Rocks, and on to the heathers and horses of Hergest and Hatterrall Ridge – truly, this is a trail with a lot of different landscapes to savour. And I haven't even mentioned the wonderful, wooded Wye Valley yet.
The path you walk on is equally varied, with mountain paths, drovers' roads, canal towpaths and muddy farm tracks encountered along the way.
Nor is the Dyke the only man-made monument you'll encounter on the trail; there's the Iron Age hill fort at Beacon Ring, and lovely Tintern Abbey, as well as several castles, forts and walled towns that are sprinkled along the trail like jewels. There's certainly plenty to tickle the history buff. But even if that's not your bag, you can't deny how well these places fit into the landscape; indeed, given the age of most of them, it's fair to say that these places are now very much part of the landscape.
The town themselves en route are occasionally fascinating too, and certainly quirky. Chief among them, of course, is Hay-on-Wye, the nation's unofficial book capital, with, so it is believed, a bookshop for every 30 of the town's population. But there's also Monmouth – now in Wales and the birthplace of Henry V of Agincourt fame; busy Chepstow with it lovely castle; and several cosy little villages and towns that lie right on the route (and some equally cosy ones that lie just off it) that provide pretty much everything a walker could want.
I realise that this introduction is starting to sound like a tourist brochure rather than a considered review of the trail. But then I am struggling to think of many negatives when it comes to the Offa's Dyke Path. And it's not just me, because I am struggling to think of a fellow walker who's ever had anything bad to say about it, nor had any criticism about the path. That's not to say that it's everybody's favourite trail. Many people prefer other trails to Offa's Dyke. But most people will say it's one of their favourites.
So for anybody contemplating a heading off on Offa, I say 'go for it'. But do remember: the rewards of Offa's Dyke are many, but have to be earned; so be prepared to undergo some punishment before receiving your prizes.
[/read]
Useful info for those walking Offa's Dyke
Transport to and from the path
Getting to the start of the trail at Prestatyn – and coming back at the end from Chepstow – is fairly straightforward. Both places are well served by buses and trains.
The only area of slight difficulty is that Chepstow is not actually the end of the trail. That, of course, is Sedbury Cliffs, about a mile and a quarter from the centre of Chepstow. You can wait for the infrequent bus from near the cliffs (there's a bus stop at the wonderfully named Buttington Tump, about three fields away from the official end of the trail); though there are only 4-5 buses per day so you may well end up walking back along the trail to the centre of Chepstow for your onward transport.
Transport along the trail
Public transport along Offa's Dyke is not great. This is a very rural part of the world and bus services are infrequent – if they exist at all. As is usual on a national trail, when it comes to getting from Point A to Point B you'll often have to travel via Point C which isn't anywhere near the path at all. Oswestry and Shrewsbury are two places which, though they aren't on the route, nevertheless you may visit them anyway if you are planning to use public transport.
It's the same story with the trains: several of the places on the trail have a train station, but if you want to travel along the path by train you'll probably have to travel via Chester, Crewe, Shrewsbury, Hereford, Abergavenny or Newport.
The first thing I need to say on this subject is that you need to be certain that your dog is fit enough for this challenge. Most humans find Offa's Dyke a challenge and their canine companions are no different. It's a tough trail over trying terrain and you need to be sure your dog is both fit enough and will really enjoy the experience. It's also a good idea to build a day or two extra into the itinerary, just in case your dog needs it.
Daisy completed this trail in 2014 and had a wonderful time. Yes, there were plenty of cows on the way, and sheep, so she did spend a fair bit of time on a lead. But there were also vast tracts of trail where she could roam free through the meadows. The local establishments – the pubs and B&Bs – were largely welcoming towards her. I did on one occasion require a vet, at Hay-on-Wye, where Daisy arrived limping. But this proved to be unproblematic and after a day's rest she was free to continue on her way.
So where might I get lost? The National Trail authorities take their usual care in putting up signposts at all the major junctions and they do a pretty good job. However, it is still possible to get lost. The day when you tackle the Hatterrall Ridge is perhaps the most tricky: acre after acre of wild open moorland with little in the way of landmarks mean it can be a little tricky to find your way, particularly if the mist rolls in.
Other than that you shouldn't wander too far off the trail if you follow the signs and have a general idea of where you're going and what to look out for. I actually had a little trouble finding the correct path out of Prestatyn at the very start of the trek – though that probably says more about me than it does about the trail.  
Camping and accommodation
Camping It won't surprise you to find out that there are lots of official campsites on the trail. So many, in fact, that it's rare to find a place that doesn't have one (though Prestatyn, at the start of the trail, once again lets itself down. While it does have a campsite, it's a couple of miles out of town and they don't allow dogs). True, sometimes it's little more than the back garden of a B&B – but at least there'll be somewhere to pitch a tent. So there's no need to wild camp – and given the amount of livestock roaming around, it's not a particularly good idea either.
Bunkhouses and hostels are less common and there will be a couple of stretches – between Llangollen and Bishop's Castle being the main one – where you'll have to spend a night or two camping or in a B&B as there is no hostel/bunkhouse alternative.
As for B&Bs and hotels, there are plenty of these and most are quite charming. Many accept dogs too. The exception, once again, is Prestatyn, which has just a couple of B&Bs that accept one-night bookings.
Facilities along the trail
Food and drink There's some good local specialities. If you're not used to Welsh specialities then do try bara brith (a cake), Welsh rarebit (cheese on toast – bloody delicious) and laver bread (fried seaweed – not as bad as it sounds). As for beer, there's even an Offa's Dyke Brewery at the Barley Mow pub at Trefonen, with other breweries based at Bishop's Palace, Llangollen and in the Wye Brewery.
Shops, banks and ATMs There are several days on the trail where you won't see much in the way of facilities from the moment you set foot on the trail to the moment you arrive at your campsite, hostel or B&B. That's not necessarily a drawback; just plan ahead and prepare a packed lunch before you go. From Froncysyllte to Welshpool there are no ATMs (though you can get money from the post office at Llanymynech) and, as I always advise, it's good to have £50-100 on you just in case.
Trekking companies and baggage carriers Many companies offer a luggage-carrying service and the whole self-guided tour package.
If you suffer from vertigo it's probably not a good idea to look down when crossing the Pontcysyllte Aqueduct. It's not dangerous – there's a rail on one side of the footpath, and a canal on the other – but if you're not good with heights you could find this bit a little tricky.
Other than that, the most 'dangerous' section is the 17-and-a-half-mile section crossing Hatterrall Ridge. It's the highest point on the walk, with an average altitude of about 600m, and very exposed, with little in the way of shelter and few options for escaping either.  Nor is there anywhere to get any refreshments on the way so make sure you pack some food and, even more importantly, something to drink too. What's more, if the weather is against you and you're not dressed for the elements you could be in trouble. 
In general, the path offers few real hazards but throughout it's fairly remote, so you need to be able to look after yourself. Carrying a very basic medical kit – antiseptic, plasters, the odd bandage or two – is probably a more sensible idea on this trail than on many others, if only because, should you need help, it may be several hours away.
1) If you have time to take a day off, the best place to do so is undoubtedly Hay-on-Wye. It's pretty, very relaxing and a great place for a mooch.
2) Get out of Prestatyn as soon as you arrive; but at the end of your trek, stay in Chepstow for as long as you can. It's more interesting and more attractive.
3) Read the advice on what to do when crossing cow and sheep fields before you set foot on the trail.
'Fully updated and includes downloadable GPS waypoints' Strider Magazine
'Keith Carter's Offa's Dyke Path is good, with amusing hand-drawn maps' The Daily Telegraph (UK)
'All the info you need' Wanderlust Magazine (UK)
'Recommended' Country Walking (UK)
Practical, walking guide to Offa's Dyke Path National Trail that runs for 177 miles (285 kms) from Prestatyn to Chepstow.
This Offa's Dyke Path guide includes:
* 98 large-scale walking maps and guides to 52 towns and villages.
* Where to stay – campsites, hostels, B&Bs, guesthouses and hotels with reviews.
Where to eat – cafes, teashops, pubs, takeaways and restaurants with reviews.
* What to see – historical, cultural and natural points of interest.
* Itineraries for all walkers – whether walking the whole route or just the highlights on day walks and short breaks.
* Public transport information – for all access points on the path.
* GPS waypoints – also downloadable from the Trailblazer website.
* 16pp of colour mapping for stage sections (one stage per page) with trail profiles (showing ascents and descents).