WHERE IS THE PATH? A trail that follows the Thames as closely as it can, from its start in the Cotswolds to a fitting finale by the Thames Barrier in London's East End.
HOW LONG IS THE THAMES PATH? 184 miles
IS IT A NATIONAL TRAIL? Yes
HOW LONG DOES IT TAKE TO WALK THE THAMES PATH?  The Thames Path is pretty easy walking and it's not too much of a push to complete the entire thing in just ten days, averaging more than 18 miles a day – a feat that would be exhausting on many of the more undulating trails. Two weeks provides a more leisurely stroll, or up to three weeks if you want to pause at several of the many towns and cities en route.
WHERE DOES THE THAMES PATH START? There's a stone 'monument' that marks the start of the path and the point where the Thames – occasionally, and only after heavy rain – rises. This is Thames Head, near Kemble in Gloucestershire.
AND WHERE DOES IT FINISH? The finishing line is London's Thames Barrier.
HOW HARD IS THE THAMES PATH? Flat for almost the whole way, and with a bloody great river keeping you from straying from the path, this is a very straightforward trek. The most difficult aspect of the Thames Path is its length – at 184 miles it's the fifth longest National Trail  – but given that you can manage 18-20 miles per day on this route, you'll soon find yourself eating up the miles.
We'd often talked about attempting a National Trail together, as a family. Traditionally, my usual trekking companion had been my dog, Daisy, and I looked on our long-distance walks as a way to 'reconnect' with her, and to step away from our respective day-to-day routines (which for me means answering emails, paying off the mortgage and falling asleep in front of the telly, and for her means eating biscuits, licking her private parts and failing to catch squirrels).
This arrangement was all very well when I was single, but over the past few years I'd somehow acquired a family. And as I was soon to learn, disappearing for weeks at a time on a national trail with my dog is not conducive to maintaining harmony in a household. It was a point that my partner, Zoe, had been making with increasing force over the past few months.
To further emphasise the point, she also conjured up visions of us strolling arm-in-arm along the riverbank, while swans drifted by and kingfishers flitted from branch to branch. It was a vision of riparian bliss that could only be realised if a) there was someone alongside me, and b) that someone was willing to walk arm-in-arm.
There was, however, one possible obstacle standing between us and to this idyllic daydream of riparian family bliss.
Should you try the Thames Path?
Useful info for Thames trekkers
Transport to and from the Thames Path
As I hint at above, getting to the start of the trail, and getting away from it at trek's end, is not as straightforward as it should be. Kemble, at the start of the walk, does have a train station that links it with Swindon and Cheltenham; but then you find yourself walking half an hour along the trail to get to its start – only to then turn 180 degrees and walk back along that same path! It's surely the most annoying beginning to any National Trail. (In the book there's an alternative route to get to the start of the path, beginning at the Thames Head pub, which at least means you won't be walking back and forth along the same stretch of path to get to the start.)
At the other end, once you've finished the walk you have to march south away from the river to catch a bus from the Greenwich High Road toward North Greenwich Bus Station; or, what I advise, once again retrace your steps along the trail to reach the nearest jetty (again, at North Greenwich), where you can catch the Thames Clipper, and head into the heart of London from there. Passing under Tower Bridge by this method really does feel like you're breasting the tape at the end of your odyssey.
Transport along the Thames Path
The bus network around the Thames is pretty extensive. The problem is, buses and trains tend not to travel along the Thames, so if you're hoping to use public transport to complete the Thames Path in stages, you will find on occasion that it's a bit of a palaver getting back to where you began. Often you'll have to travel via one of the big towns and cities – Oxford, Swindon and Reading – in order to reach your destination. Even those towns en route with a train service are not as well connected as you'd hope them to be, for the stations are often on a branch line, and one that connects it with few other places on the trail. And when you're walking the first part of the trail, in and around the Cotswolds, be prepared to catch a cab.
Of course, things do improve as you progress along the trail – though not as far or as fast as perhaps you were hoping – until, by the time you get to London, the public transport is brilliant, with the Tube, bus and ferries serving the trail.
So, in summary, the public transport network serving the Thames Path is extensive; but if you're going to be relying on buses and trains a lot for your trek, you'll find it's not as useful, and many journeys are more convoluted, than you're probably expecting them to be.
Walking the Thames Path with a dog
You can walk along the Thames Path with a dog, and we have done so, but they have to be pretty relaxed when it comes to walking through fields full of cows. If they're not, and start yapping at the first sign of a bovine, then the cows in turn will approach to see what all the fuss is about – and you're going to end up having a rather stressful time of it.
As a result, you will have to keep your dog on a lead for much of the walk, not only because of the livestock but also, of course, when you're walking in London and the other big cities. But don't despair: there are plenty of places where your dog can roam unfettered too, free from danger, and Daisy still seemed to really enjoy the trail when she tackled it with us.
So where might I get lost? You have to really try hard to get lost on the Thames Path. There are signposts to guide you and a river to hug so it's really quite tricky to lose the path for more than a few steps unless you miss a signpost (or a signpost has gone missing). The exception to this rule is London, where the path changes frequently due to building works and, unfortunately, showing walkers where they should now go doesn't seem to be one of their main priorities. Suffice to say, you should stick to the riverbank for as long as you can and, after you've been diverted away from it, try to return to it as quickly as possible and you won't go far wrong. 
Camping and accommodation along the Thames Path
Camping along the Thames Path is easy, with most locks boasting one. They're cheap and charming, though some are very basic. The biggest stretches of the trail where you won't find a campsite is between Wallingford/Crowmarsh Gifford and Henley-on-Thames and once you enter London. Thankfully, there are youth hostels serving both these places so you can always stay in them instead (unless you have a dog, in which case you'll have to upgrade to a dog-friendly B&B). If you're hesitating about camping on the trail, well, don't: the campsites are by some of the most charming parts of the path; though plan carefully as facilities nearby are often non-existent.
The hostel situation along the Thames Path is dire, with only Streatley, Oxford and London boasting them (though both the last two actually have more than one). There are no bunkhouses along the entire trail.
As for B&Bs and hotels, there are plenty of them, of course, mostly in the towns en route. Pubs, particularly along the first half of the trek, provide some of the most characterful and convenient accommodation on the trail.
Facilities along the Thames Path
Food and Drink You won't go hungry on the Thames Path. Hundreds of lovely riverside pubs and cafes and plenty of food stores; really, given how straightforward (and flat) the path is, this is the one trail where you are just as likely to gain weight as lose it.
Shops and ATMs Again, the path is awash with food shops, and while cash points are infrequent in the first few days, there are still enough to keep you afloat.
Trekking companies and baggage carriers Lots of companies offer self-guided tours, and at least one offers baggage carrying and guided tour services.
The biggest hazard is currently being sorted out, and by the time you read this should no longer be a problem. On the approach to Lechlade it used to be that trekkers would have to march along the fast and pavement-less A361 between Upper Inglesham and Inglesham. So dangerous did the authorities consider it that they, uniquely as far as I can remember, advised trekkers to catch a bus instead and said that this would be considered as part of the trail. Thankfully, after much negotiation, as I write this a new path has now been put in place that avoids the highway altogether.
Other dangers: well some people talk about the end of the path as you trek through London's East End as feeling threatening; the guide's original author, Joel Newton, said he felt the atmosphere was threatening enough for him to hide his camera and GPS. We have to say we found it more deserted  than threatening, though I suppose if you met with a "wrong'un" on the path on this section, which is largely sandwiched between the river and some tall wire fences, you've got nowhere to escape to. But we found it all benign enough and perhaps people's fear of this section can be ascribed to nothing more than a yokel's prejudices against the Big Smoke.
Other dangers? Well, I've already talked about the cows at some length so I won't talk about them again here. And do remember that on one side of you for the vast majority of the walk there is a large body of moving water, so just be careful where you step. Oh, and don't piss the swans off – you may come off second-best.
1) I have two favourite pubs on (or, in one case, just off) the trail. The first is the brilliant Wild Duck Inn at Ewen, just a couple of miles from the start of the trail (and thus, for those looking to stay in B&Bs for their trek, a great place to spend the first night). It'll be a bit swish for some tastes – and it ain't cheap – but this sixteenth-century place has barrels of character and history. 
The second pub that took my fancy was the delightfully quirky Flower Pot at Aston. It's not often you can sit in a pub and have dinner while a parrot quietly chunters to itself in the corner, an arthritic dog curls up at your feet and the entire pub (which, admittedly, didn't number more than half a dozen people on the night we visited) watched an old episode of Mrs Marple on the telly. It was like sitting in an eccentric aunt's front room, though only if she's mad keen on hunting and fishing (there's a lot of memorabilia on this theme hanging off the walls). It's friendly, unfussy and relaxed – and, as such,  a refreshing antidote to many of the more pretentious pubs on the trail.
2) Can't decide between the two alternative paths that run along the Thames through London? I advise you to take the south-bank path initially, for it's the more interesting trail. But if you have time to do other trail too, I advise you to do so; it's still lovely, just not as lovely as the southern bank.
3) Need to take public transport in London? Do try to catch the Thames Clipper if you can – it gives you a completely different perspective on the city and the river and is a lot more pleasant than the tube.
The Thames Path: Further info
The Thames Path Guide
'Practical, clear-eyed and enthusiastic' Wanderlust 
'With this book you would have immense difficulty getting lost or not knowing where the nearest restaurant, pub or bus route is' River Thames News
'Recommended' Adventure Travel
'Another polished and comprehensive Trailblazer title' Walk magazine online, Ramblers
The all-in-one, practical guide to walking the Thames Path, England's most important waterway. Fully revised 2nd edition of this absorbing 184-mile (294km) walk from the Cotswolds to the Thames Barrier. With magnificent varied scenery and passing so many ancient sites, this is as much a walk through history as an easy ramble beside a river.
The guide includes: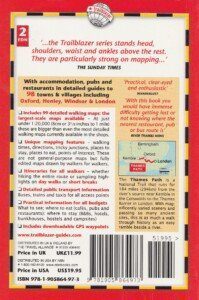 * Thames Path map – plus 99 detailed walking maps (1:20,000) plus separate plans for the towns and villages en route.
* Detailed accommodation guide with brief reviews of B&B's, hotels, hostels & campsites.
* Informations about facilities on the way Shops, cafes, pubs, cash machines, post & tourist offices, foods stores – it's all in here!
* Taking a dog – experienced advice on walking the path from Daisy, the author's dog, who has walked the entire trail.
* Itineraries for all walkers Whether hiking the entire route or sampling highlights on days walks and short breaks.
* Public transport information including how to get to and from the Thames Path – and how to travel along it.
Buy the book:
To buy the book from Amazon.co.uk, please click the link below:
To buy the book from Amazon.com, please click the link below: