South-West Coast Path 2, Cornwall Coast Path: The Basics
WHERE IS THIS SECTION OF THE SOUTH-WEST COAST PATH? Covers the entire county of Cornwall: from its northern border with Devon all the way westwards down the coast to Land's End, then east again round the Lizard Peninsula and on to Cornwall's southern border with Devon at Plymouth.
HOW LONG IS THE CORNWALL COAST PATH? 288 miles
HOW LONG DOES IT TAKE TO WALK THE CORNWALL COAST PATH?  Anywhere from 16 days up to an entire month
IS IT A NATIONAL TRAIL? This is not in itself a national trail, but is a significant chunk of the giant South-West Coast Path – which is.
WHERE DOES THE CORNWALL COAST PATH START? Bude, on the coast where Cornwall meets North Devon.
AND WHERE DOES IT FINISH? Plymouth, just over the border from Cornwall in South Devon.
HOW DIFFICULT IS THE CORNWALL COAST PATH? Pretty exacting. Though only a part of the South-West Coast Path, it is the biggest part. Indeed, the Cornwall Coast Path is longer than any other national trail. It is also rarely flat. Thankfully, there are at least plenty of places en route to stop and have a break and a cream tea (remember, the cream goes on last in Cornwall).
The first thing to say about the Cornwall Coast Path is that it is long. By the time you've negotiated all the coves and cliffs, inlets, and estuaries and hauled your carcass from Bude, on Cornwall's north coast,  to Plymouth, on the South Coast, you will have clocked up a magnificent 288 miles. If the Cornwall Coast Path were itself a National Trail, that would make it the longest (except, of course, for the South-West Coast Path, of which this forms a part). Longer than the mighty Pennine Way (a trifling 253 miles); longer than Wainwright's Coast to Coast (a piffling 190 miles); longer, too, than those two Welsh giants, the Pembrokeshire Coast Path (a meagre 186 miles) and Offa's Dyke (177 miles).
But never mind the length: feel the quality. For this is a gorgeous trail too. Who knew, for example, that the fishing villages around Cornwall could be as lovely as you remember from your holidays as a child?
Or that the main tourist towns such as Polperro, Looe, Mevagissey and St Ives, despite being swamped with visitors in the high season, nevertheless manage to remain, at their heart, really quite charming, and quite pretty?
[read more]
And who knew the scenery in between these places could be quite so dramatic, and so ravishing? Or that the waters around Land's End could be so clear, and so blue?
And who knew that, despite the summer crowds, there are many miles of coastline with scarcely a soul about, where you can still find your own private beach to sit and scrunch the sand between your toes?
In short, the Cornwall Coast Path really is a wonderful trail; strenuous, it is true, but sensational as well.
One of the lovely aspects of a walk around the edge of Cornwall is the sense of adventure you feel. It's not just the wild, rugged, lonely landscape – though that helps, of course – but it's the variety too. One day you'll be ringing a bell to summon a tiny ferry boat to take you across the river and onto the next part of the trail, the next day you could be visiting a gallery in St Ives, or sunning yourself on the sands of Perranporth, or strolling past the disused tin mines near Pendeen. Or you could spend a day marching around the fascinating peninsula of the Lizard – a lovely pimple on the bottom of Britain and the mainland's most southerly point. Or you could be jogging along the Causeway across the water from Penzance to the castle-topped islet of St Michael's Mount; or taking a dip at Plymouth's Tinside Lido, before heading to the old part of the city to sample the local gin; or catching a show at the Minack Theatre, hewn into the cliffs overlooking the sea at Porthcurno; or avoiding the stag parties crawling around the pubs of Newquay.
Or you can simply spend a morning scoffing ice creams while watching the seals bobbing between the boats at picturesque Port Isaac.  Or, if you have the money, scoffing on scallops at pretty Padstow, the newly established home of sensational seafood and celebrity chefs.
If I am sounding like a brochure, then I apologise – that's not what this website is about at all. But if you get the right weather and have the necessary gumption this really is a lovely and varied walk – and one of the best that Britain has to offer.
[/read]
Is the Cornwall Coast Path for you?
Useful info on the Cornwall Coast Path
Transport to and from the path
With a major city like Plymouth at one end of the trail, getting away from the Cornwall Coast Path is not going to be difficult with plenty of trains and coaches serving the final point on the trail (though you do have to walk a little way inland to get to the stations).
Getting to Bude at the start of the trail, however, can be a bit more tricky as it's served by neither coach nor train.  If you wish to travel by train your best bet is to catch one to Exeter or Barnstaple and get a bus from there to Bude.
Transport along the Cornwall Coast Path
Bus services in Cornwall tend to be both scenic and very seasonal. Most towns on the trail have some sort of service but it pays to check exactly how frequent that service will be in the month that you're travelling. Surprisingly, buses in the far west of the county (ie towards Lands End) are more frequent than those between Falmouth and Plymouth; the River Fal is quite a large obstacle and there are no bridges (just a ferry) so buses have to head inland to Truro; as a result, most of the time you'll need to change there to catch a second bus to your destination. But given how remote some of the places on the Cornwall Coast Path feel, there is a better bus service than I suppose I have any right to expect – and certainly much better than many places on other national trails.
Walking the Cornwall Coast Path with a dog
Our advice on this part of the South-West Coast Path is pretty much the same as it was for the previous section (only with fewer goats). Firstly, make sure your dog is fit enough for this expedition – it's very tough going. Secondly, bring a bowl and plenty of water for your pooch (and plenty for you too); it can get very hot on those cliffs and dehydration can be a real issue. Thirdly, there are plenty of places where your dog could drop to his or her death.
There is the usual plethora of cow fields on this trail too.
Two other pieces of advice: firstly, before walking on a beach with your best friend, make sure you find out the rules. All beaches have some sort of rule about dogs. Most will ban dogs during the high season (May-September) but, if the South-West Coast Path crosses the sand, they will allow you to walk your dog across it as long as they are kept on a lead and you make your way across as quickly as possible. Others will have some section set aside where you can walk the dog. But go on a section of the beach where dogs aren't allowed and you risk a fine. And always, always clean up any mess from a beach: you'll be really unpopular if you don't.
Secondly, don't forget your tick remover: Daisy collected a few parasites on her jaunt along the SWCP and, though she never contracted any nasty diseases from them, Lyme disease is prevalent in that part of the world.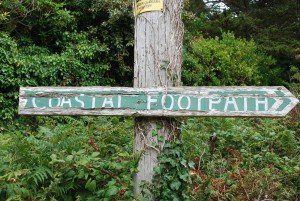 So where might I get lost? It is possible to get lost on the Cornwall Coast Path – but never for very long. While it's true that as long as you keep the sea to your right (assuming you're starting in Bude) then you shouldn't go too far off the trail, there are still places where it can be a little tricky finding the correct path. Obviously if you've got our guide then you have no worries but otherwise use an OS map or GPS to help you choose the right option at a confusing junction. 
Camping and accommodation along the Cornwall Coast Path
Camping The Cornwall Coast Path is well stocked with campsites. Most tend to be of the family-friendly variety and so can be very busy and noisy in the school holidays. But weighed against this is the fact that they also tend to have the best facilities, with many boasting a shop and some even having site-wide wifi! One disadvantage is that some of the bigger places en route do not have a campsite (Plymouth, Mevagissey and Falmouth to name but three), though in this instance they'll often have a hostel instead which is a useful substitute and a welcome one after several night's under canvas. (Note that Mevagissey, however, has neither.)
On the subject of hostels, on the first half of the walk (if starting in Bude), these are in pretty good supply as far as Land's End. After there, though, there are some huge gaps; there are only two between Penzance and Falmouth, for example, and once you leave Falmouth there are none until you get to the end of the trail at Plymouth! Several of the hostels are seasonal too, so if you're walking out of season you may well feel that the first part of the path is not well served either. (If the hostels at Boscastle and Tintagel are closed when you're walking, for example, then the entire first quarter of the trail after you leave Bude and until you arrive at Treyarnon is without a hostel.)
Nevertheless, compared to many other trails, the situation is not so bad, and as long as you use them as a back-up to campsites or B&Bs, rather than looking on them as the mainstay of your accommodation for your trek, then you won't be too disappointed.
As for B&Bs and hotels, there are plenty of these, of course, though not as many as there used to be, with many people realising that it's a lot easier to hire their place out for the week to one family rather than individual nights, with all the extra work that entails. Some places may ask for two-night stays at weekends and in the summer holidays.
Facilities along the Cornwall Coast Path
Food and drink What the walking takes off, the food puts right back on again. Given the local specialities of Cornwall – the pasty, fish & chips, clotted ice cream, cream tea, fudge, more cream tea, and all accompanied by gallons of Plymouth gin – it's a wonder that the county isn't sinking beneath the weight of obese locals, lifting the rest of the country ever upwards towards the sky.
And yes, if you restrict your diet to just those foodstuffs mentioned above, then your holiday will be less adventure, more angina. But there is plenty of other local food that is just as delicious, and you'll have no trouble finding places to sell it to you either, with eateries aplenty on the trail.
Shops, banks and ATMs Again, there are lots of shops and cash machines along the trail so you should have no problems in this regard.
Trekking companies and baggage carriers As with the previous stage leading up to Bude, the appropriately named Luggage Transfers are the biggest baggage carrying operation on the South-West Coast Path. There are lots of companies offering self-guided tours.
The biggest danger on the Cornwall Coast Path is the weather, so come prepared for a downpour or two and bring your waterproofs. But also prepare yourself for a possible heatwave, with all the concomitant dangers – sunburn, heat exhaustion, heatstroke and dehydration – that this brings. Take suncream, a sunhat and plenty of water to ward off these perils.
The temptation with such a long walk is to try to push on for fear of not getting it finished before you have to go back to your real life. I say don't: there's so much to enjoy on this trail and you could end up over-exerting yourself, which could prevent you from reaching the finish altogether.
If you want to visit one of the secluded coves that you see on the trail, I say go for it, but do take care: sometimes the path from the trail down to the cove is precarious – if there's one at all – and you need to make sure you can leave the beach easily when the tide starts to come in, or you could get trapped.
The cliffs over which the trail runs are quite steep in places, and although you'd really have to try if you want to put yourself in danger, it pays to watch where you're treading.
If you're swimming in the sea do remember that Cornwall is famous for its surfing, which should lead you to realise that the waters can be rough. There may also be undertows, and sandbanks, too, that lead the unwary into thinking that the waters are shallow; and it's only when they head back to shore and unwittingly step off the bank and into deeper water that they realise this is not the case. So look out for any notices that warn you of any offshore dangers.
1) Newquay attracts a certain sort of person, and trekkers aren't usually that sort of person. If you consider an evening unfinished unless you've had a fight and thrown up over someone, then Newquay is for you and your like; for those who are happier snuggled up in bed with a mug of hot chocolate and the shipping forecast on the radio, however, other resorts will be more suitable.
2) Don't over-exert yourself. The Cornwall Coast Path is a long trail and many will want to finish it in one go. Which is fine, as long as you leave yourself enough time to finish it. Unless you're the kind of person who is happy walking 20 miles a day – and very, very few people are, particularly on this bumpy terrain – then aim instead to stop short, in Falmouth, or Penzance, or even Land's End – and return to finish it another day. There's so much to enjoy here and it would be such a shame to whizz past it all.
2) If you're only going to do one side-trip, a jaunt across the Causeway at low tide from Marazion, near Penzance, to the offshore island of St Michael's Mount is our favourite. Lovely old castle on top, beautiful grounds and a chance to enjoy the panorama back towards the mainland and the path you've taken to get this far – and the one you're about to embark on.
3) Though it is of more relevance on the next part of the trail, do keep an eye on what is coming up on the trail and, in particular, if there are any ferries you need to catch. Arriving after the last one has left for the day could leave you stranded and facing a lengthy inland diversion in order to regain the trail on the opposite bank. Plan everything in advance to avoid such outcomes.
4) Linger on the Lizard. The Lizard peninsula is a unique little place and one that has largely avoided the commercialisation of the rest of Cornwall. Spend at least one night here – it's so tranquil, and pretty, and interesting.
The South-West Coast Path, Cornwall: Further info
'Trailblazer really have got it right with their route maps. They rival Wainwright's mapping for accuracy and detail and if anything are actually easier on the eye to read.' Backpack magazine
'Hikers will be delighted' Evergreen Magazine
Practical Trailblazer Walking Guide to the Cornwall coastal path, the 288-mile footpath that runs around the entire Cornwall coast, from Bude to Plymouth; this Cornwall guide covers Part 2 of the South West Coast Path, a 630-mile national trail from Minehead to Poole.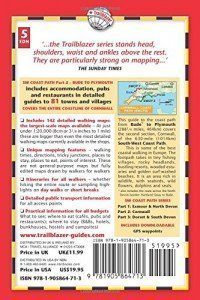 Includes:
* 142 large-scale maps (3 1/8 inches to 1 mile), 24 town plans and 16 overview maps.
* Accommodation for all budgets – camping, bunkhouses, hostels, B&Bs, pubs and hotels with reviews.
* Places to eat – cafes, pubs and restaurants with reviews.
* Comprehensive public transport information for all access points on the coast path.
Itineraries for all coastal Cornish walks whether walking the whole trail or for day walks and short breaks.
* What to see on your walk – historical, cultural and natural points of interest.
* Flower and wildlife, six page colour guide.
* Downloadable gps waypoints.
* Plus extra colour sections: 16pp colour introduction and 16pp of colour mapping for stage sections (one stage per page) with trail profiles.