The LOOP (London Outer Orbital Path)
A lengthy but fairly gentle stroll around the outskirts of the capital.
WHERE IS THE LOOP? Following the outer limits of London, within the M25 (though occasionally within earshot) and largely within the Metropolitan Green Belt.
HOW LONG IS THE LONDON OUTER ORBITAL PATH (LOOP)? 150.75 miles/242.6km
HOW LONG DOES IT TAKE TO WALK THE LONDON OUTER ORBITAL PATH (LOOP)?  Though the walk is divided into 24 stages, most people take between a week and two weeks in total to complete the trail.
IS IT A NATIONAL TRAIL: No
WHERE DOES THE LOOP START? Erith, a former Kent village that, since the 1960s, has been part of Greater London.
AND WHERE DOES IT END? Purfleet, in the shadow of the Queen Elizabeth Bridge – and across the Thames from Erith at the start of the trail.
HOW HARD IS THE LONDON OUTER ORBITAL PATH? Straightforward. Yes, there are a few gradients, but ones at which experienced and inexperienced walkers alike will probably scoff. The walking is largely conducted on footpaths, though there's plenty of walking on pavements and bridleways too. The only difficulty is finding your way.
The first and most important thing to say about the London Outer Orbital Path is that it cannot compare with any of the other walks on this page. 
Beauty, adventure, excitement – it simply can't compete with the other trails in any of these categories.
But then, that's not really the point.
For not only was this walk designed by Londoners (an organisation called the London Walking Forum conceived of it in the early 1990s) but it was largely designed for Londoners too, to give them a chance to get away from the Big Smoke and to enjoy something that resembles a long-distance trail.
In other words, this isn't a walk that was ever intended to be tackled in one go by hikers in full trekking gear taking their annual vacation. Instead, it was designed to be tackled in a series of leisurely afternoons out, a brief escape from the city
We had to say this at the outset, as we would hate for someone to travel from outside the South-East of England in order to tackle the LOOP. Or, even worse, for somebody to come from abroad to walk it, and to go home a couple of weeks later thinking this was the best this country had to offer. Because it really isn't. But if you're someone who enjoys walking, but is stuck in the capital, then the LOOP offers a real respite from the city.
Should you 'do' the LOOP'?
Useful info for LOOP walkers
Transport to and from the path
With London the hub of the nation's transport network, you won't have any trouble travelling to the capital. And once you're in the capital, you won't have any trouble bouncing back out to the capital's outer reaches in order to pick up the trail. But be warned: though the services are frequent, it can take an hour or two to travel from one part of London to another.
Transport along the London Outer Orbital Path
The London Transport network is vast, complex and far-reaching. One vital bit of kit to take along is your smartphone. The TfL (Transport for London) website has updates on train and bus times; best of all, type in where you are and where you want to go and they'll come up with the quickest route. It's very clever!
Walking the LOOP with a dog
It's not a problem taking your dog along the LOOP, though you may not be able to let him or her off the lead as much as you can on most other walks. There's a lot of traffic, of course, but several of the parks also ask that you keep your dogs on a lead.
If your dog struggles to behave when joggers run past, or there are other dogs around, or in crowds, or on public transport, then the LOOP is not the best trail for them.
There is also one place on the trail where dogs are not allowed at all. The Woodland Gardens of Bushy Park are off-limits; luckily, there is an alternative trail that hugs the fence of the Gardens.
One more thing: don't forget your poo bags. You'll be doing a lot more pavement walking on this route than on others and the local residents won't take too kindly to your hound decorating their walkways.
So where might I get lost? The biggest difficulty with walking the LOOP is finding your way. Unlike nearly all the other trails on this site, there are a lot of people who live on or near the LOOP. Unfortunately, that also means you're more likely to find someone who takes great pleasure in stealing footpath signs, or defacing them, or, perhaps worst of all, adjusting them so they point in the wrong direction.  
We've been informed that the Inner London branch of the Ramblers Association are taking over the maintenance of the LOOP – and its little sister, the Capital Ring – and hopefully so we can look forward to better signage along the trail. But
So we still think our book will be invaluable for navigation. Because during the research of this book, we separated from the trail countless times, and many were the hours we spent trudging around a field scanning the horizon for a signpost. Annoying at the time, at least it enabled us to discover precisely where hikers are likely to lose their way – and provide detailed instructions on the map to prevent future walkers from doing so. 
Or to put it another way: we got lost, so you don't have to.
Camping and accommodation along the London Outer Orbital Path
Most LOOP walkers live in London, and so won't be requiring any accommodation. But for those who do, please note the following:
There's little to no camping along the LOOP. Leave your tent at home.
There aren't many hostels along the way either, but it doesn't cost much time or effort to catch a train or tube into Central London where you'll find plenty.
As for B&Bs and hotels, there are several along the way, and some have some history too. We point out the more intriguing ones in the book. If you're on a budget, you may find the accommodation offered by the national chains such as Travelodge (who also allow dogs, though for £20 a stay) to be both great value (rooms start at around £29, though you need to book in advance) and they have places dotted all along the trail.
Facilities along the London Outer Orbital Path
Supermarkets, banks, trekking stores you won't have to walk far before you come across them. The stages usually end near shops. Usually, but not always. That's no great hardship if the stage is only 3 or 4 miles, but is slightly more galling if the stage is 10 miles or more or if, as happens on a couple of occasions, there are no stops at the stage's end. So do make sure you read up about your day's walk before you set off, just so you know whether you need to take provisions with you or can pick them up en route or at the end of your hike.
I suppose the biggest danger on the trail is other people. Though most of the time the civilisation you visit on the LOOP is, well, very civilised, some bits, it's fair to say, aren't. I don't think it's fair to mention all of the more insalubrious places the trail passes through – though if I ever set foot in Cranford again it'll be too soon. Suffice to say, there are some rough edges to London, and it might be wise to be off the trail before night falls – these pleasant parks, waterways that you pass through take on a much more menacing aspect after dark. 
It's not worth rushing through the LOOP. There is a lot to see and plenty of pleasant cafes, pubs and parks where it's nice to eat, sit and sunbathe for a while. Indeed, treating the LOOP as a series of 'picnics' bookended by some hiking is not a bad idea.
Take a book to read on the train or tube on the way to/from the trail – sometimes it takes a long time to get to/from the trail.
Take your smartphone with you and download the TfL app.
 On that subject, don't buy single tickets at train stations – just tap your payment card on the barriers on the way into the station. You'll save a lot of money that way (as long as you remember to tap out again afterwards).
Finished the LOOP and want a similar challenge? The Capital Ring is like a concentric circle to the LOOP, lying wholly within the LOOP but still outside of Central London.
Comprehensive, all-in-one guide to walking the London Outer Orbital Path.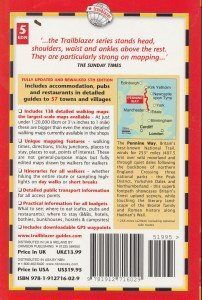 The walking guide includes:
* 48 large-scale walking maps at just under 1:20,000 – showing route times, places to stay, places to eat, points of interest and much more.
* Places to eat with reviews Teashops, cafes, takeaways, pubs, restaurants.
* What to see along the way Historical, cultural and geographical background information.
* Itineraries for all walkers Whether walking the route in its entirety over a week to 10 days or sampling the highlights on day walks and short breaks.
* Comprehensive public transport information For all access points on the path.
* Flora and fauna Four page full colour flower guide, plus an illustrated section on local wildlife.
* Green hiking Understanding the local environment and minimizing our impact on it.
* Downloadable GPS waypoints.
* The information is written onto the maps, so walking directions, tricky junctions, places to stay and eat, points of interest and walking times are all written onto the maps themselves in the places to which they apply. The maps are not general-purpose ones but fully-edited maps drawn by walkers for walkers.