A hundred-mile trek along the Cotswolds Edge
WHERE IS THE PATH? The trail runs along the western edge of the Cotswold Area of Outstanding Natural Beauty. It actually follows a geological feature known as the Cotswold Edge – the western escarpment of the Cotswold Hills. On the way it visits three counties: Gloucestershire, Worcestershire (briefly) and Somerset.
HOW LONG IS THE COTSWOLD WAY?  102-105 miles
HOW LONG DOES IT TAKE TO 'DO' THE COTSWOLD WAY?  7-9 days
WHERE DOES THE COTSWOLD WAY BEGIN? Chipping Campden, a well-to-do market town in Glouccestershire.
AND WHERE DOES IT END? Bath, one of the loveliest cities in England.
IS IT A NATIONAL TRAIL: Yes
HOW HARD IS THE COTSWOLD WAY? Harder, perhaps, than you may think. The designers of the walk clearly liked a hill, and many an afternoon you'll spend slogging up a slope, even when easier, flatter alternatives are available.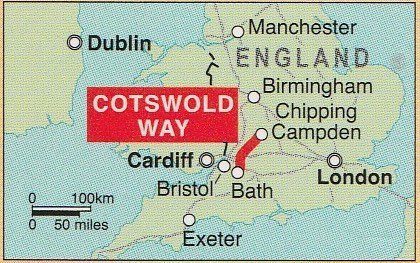 Ahh the joy of the Cotswolds. A gorgeous little world of gold and amber farmhouses and cosy thatched cottages. It's a world of gently rolling hills and villages crammed with teeny tearooms and ancient inns. Is there anywhere more magical in England? 
And here we have a National Trail that is named after the Cotswolds. A path that allows you to meander for a week or more through this delightful landscape. What could be better?
Well, actually, quite a bit. Because while I still enjoyed myself on the Cotswold Way, this must be said:
This is my least favourite national trail. 
In fact, I'll go further: this is my least favourite of all the long-distance trails.
But why is this, when it seems to have so much going for it? 
What's my problem with the Cotswold Way? >>
Should you walk the Cotswold Way?
Useful info for Cotswold Way walkers
Transport to and from the path
Getting to the start of the trail is a bit of an expedition in itself. Chipping Campden is not a huge place and there's no railway station. Arriving by bus is thus your best option, either from Moreton in Marsh – the nearest place with a train service – or from Stratford-upon-Avon.
Thankfully, getting away from Bath at the end of the trail is no problem, with the city well served by buses, National Express coaches and trains.
Transport along the Cotswold Way
You won't find any useful train services along the trail, and in order to find any railway service you'll have to walk a mile or three off the path.
Most places along the trail have some sort of bus service. The main problem is that finding a bus that travels along the path is quite difficult. In particular, finding a bus that connects the northern half of the path with the southern half is impossible – presumably because the path crosses into different counties, which presumably have their own bus networks that rarely overlap.
To summarise:
Between Chipping Campden and Winchcombe there are buses that run along the trail.
Between Winchcombe and Painswick you'll probably have to travel via Cheltenham.
Between Painswick and Wootton under Edge you'll struggle to  find connections between the places en route though you may have some luck if you look at travelling via Stroud.
Wootton to Old Sodbury is pretty well connected by a couple of buses.
Between Old Sodbury and Bath you'll probably have to travel via Chipping Sodbury.
Walking the Cotswold Way with a dog
There are no major concerns with bringing a dog along the Way and there are plenty of woodland where your hound can run amok to its heart content.
It might be an idea to keep him or her on a lead, however, if they're the kind of dog that can't help but chase golf balls – the path crosses several courses.
There are, of course, also several farms you cross with livestock.
So where might I get lost? It's not easy to get lost on the Cotswold Way. The trail is comprehensively signposted, like all National Trails. The biggest problem may be when you're walking through the woods. These woods are sometimes very extensive and there are always plenty of smaller trails branching off the main one, so you could get lost for a while. 
The only place that I can recall where I had any problems was after Selsey Common, where the signposts were missing and it appears that the path has been moved. It delayed us for only twenty minutes or so but that was long enough to be annoying. Hopefully new posts have been erected now and you'll find the situation much improved.
Finally, finding your way through Bath to the Abbey is not difficult, but if you are hoping to follow the correct trail then you've got to watch out very closely for any indications, as the signposts disappear at this point. Acorn stickers attached to roadsigns, bollards and other street furniture are your only hope, but after a while you may have to accept defeat and just try to get to the abbey by whatever route you find.    
Camping and accommodation along the Cotswold Way
Camping along the Cotswold Way is not straightforward. There aren't many official campsites and, of course, wild camping is illegal (though very possible, given the extensive woods and forests along the way).
The hostel situation along the Cotswold Way is also pretty depressing, with only two independent hostels to supplement Bath's youth hostel.
Bunkhouses, too, are few and far between.
So it's B&Bs that you'll be relying on for most of your trek.
Facilities along the Cotswold Way
The Cotswold Way is not as rural or isolated as some trails, and as a consequence facilities are fairly easy to come by along the trail. ATMs, shops, post offices are all available along the way, though you do still need to plan ahead – there are some pretty long stretches where you won't find anything.
As I've already said, public transport isn't very comprehensive along the trail either, so even if you want to leave the trail to go shopping or get some money out it won't always be easy.
Perhaps the biggest potential hazard is people under-estimating the Cotswold Way. It can in places be a tough walk with some steep sections. Furthermore, you can still be some distance from any help should you become immobilised for some reason and require assistance.
You probably have to go out of your way – and off the path – for this to be a hazard, but there are some steep drops, particularly around Devil's Chimney on Leckhampton Hill. Just watch your footing around here.
Heatstroke is a more realistic danger – so make sure you take a lot of water with you on the trail, wear sunscreen and cover up when it gets really sunny.
If you can, give yourself a day or two at the end of the trek so you can spend more time in Bath. It's a lovely place.
On that subject, if you've never been to the Cotswolds before and, after this walk, you're wondering what all the fuss is about, do check out some of the other villages in the region. Some of them are just gorgeous – and you may then understand why I'm a little disappointed with the trail itself.
If you've got the time, do visit the Cold War nuclear bunker near Broadway Tower – it's the only one near a National Trail (well, at least as far as I know) and it's fascinating.
Don't miss  the churchyard at Painswick, either. My younger self would be shaking his head in despair that now get a kick out of topiary – but I love the manicured yew trees here.
The Cotswold Way: Further info
The Cotswold Way Guide!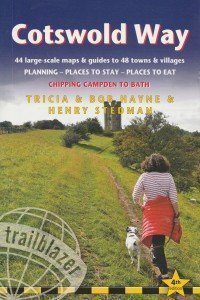 'A polished guide … with detailed maps and masses of practical information' Walk Magazine (Ramblers)
'Maintains the hallmarks of these popular guides'  Strider (Long Distance Walkers Association). 
Comprehensive, all-in-one guide to walking the Cotswold Way, one of England's favourite National Trails.
The walking guide includes:
* 44 large-scale walking maps at just under 1:20,000 – showing route times, places to stay, places to eat, points of interest and much more.
* Town plans, colour stage maps and altitude profiles of the entire way 
* Places to stay with reviews Pubs, hotels, B&Bs, hostels, bunkhouses, campsites.
* Places to eat with reviews Teashops, cafes, takeaways, pubs, restaurants.
* What to see along the way Historical, cultural and geographical background information.
* Itineraries for all walkers Whether walking the route in its entirety over a week to 10 days or sampling the highlights on day walks and short breaks.
* Comprehensive public transport information For all access points on the path.
* Flora and fauna Four page full colour flower guide, plus an illustrated section on local wildlife.
* Green hiking Understanding the local environment and minimizing our impact on it.
* Downloadable GPS waypoints.
* The information is written onto the maps. Walking directions, tricky junctions, places to stay and eat, points of interest and walking times are all written onto the maps themselves in the places to which they apply. The maps are not general-purpose ones but fully-edited maps drawn by walkers for walkers.