The Pembrokeshire Coast Path
Pembrokeshire Coast Path: The Basics
WHERE IS THE PEMBROKESHIRE COAST PATH? In south-west Wales, following the outline of the Pembrokeshire Coast National Park
HOW LONG IS THE PEMBROKESHIRE COAST PATH? 186 miles
HOW LONG DOES IT TAKE TO WALK THE PEMBROKESHIRE COAST PATH?  10-19 days
IS IT A NATIONAL TRAIL: Yes
WHERE DOES THE PEMBROKESHIRE COAST PATH START? Amroth, a fairly nondescript village south-west of Carmarthen
AND WHERE DOES IT END: St Dogmaels, an only slightly less nondescript village located a few miles south of Cardigan.
HOW HARD IS THE PEMBROKESHIRE COAST PATH? Tough in places. Like all coastal walks, the path is quite undulating, and the last stage of the trek is a tough 16-miler with almost no opportunities to break up the day.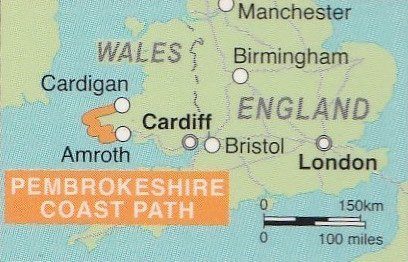 In 1952, the powers-that-be designated the coastline of Pembrokeshire to be a national park. 
According to reports, it appears that they decided to confer national park status on this stretch of sandy shore for no other reason than it is simply spectacular. 
It's a decision with which it's hard to disagree. 
Fast forward 18 years and, in 1970, a path was opened that allowed walkers to experience pretty much all of that coastline, from its south-eastern extremity to its northernmost point.  
The path is 186 miles long and, like all coastal paths, is a lot tougher than you maybe imagining. Coastal paths tend to undulate more than your average trail and after a while those gradients really start to wear down both spirits and stamina.
Thankfully, there's a lot crammed within these 186 miles to keep souls from flagging. Most people will be interested in the beaches, of course, and, rarely for the UK, Pembroke has loads of the sandy variety; 58 to be precise according to one source. In between these are 14 harbours, and almost 50 towns and villages (and, famously, one city!) where you can find some great local food and some good value accommodation too.
All of which is very well, but the question remains: is the actual walk any good?
The answer is, in my opinion, yes – but it is a qualified 'yes'…
[read more] If you read online reviews from walkers you'll find almost universal praise. Hardly anybody has a bad word to say about any aspect of the trail (save, perhaps, for the weather – but this is Wales, so what do you expect?)
And I agree with pretty much everything they say. It is a lovely, lengthy stroll across a largely forgotten corner of coastline. It's beautiful, it's varied, it's got a lot of history (including Carreg Sampson, a 5000-year-old Neolithic cromlech, or burial chamber, and the majestic Norman-built Pembroke Castle, birthplace of Henry VII, the founder of the Tudor dynasty) and some fantastic scenery and wildlife.
So why do I hesitate from giving it my wholehearted endorsement? Well, I realise I'm being unfair but I have to admit that, on my last trek along the whole trail, back in 2019, I did actually start to get a teensy bit bored by the end.
And this, I think, has been the only occasion on any long-distance trail where this has happened anywhere.
Whether it was just my particular circumstance – I was walking by myself, and I had actually walked the entire thing once before, back in 2007 – or whether it was the path's fault, is I suppose up for debate. But the bottom line is that I found the last couple of days, and in particular the scenery on the last day, slightly monotonous.
In the path's defence, it should be pointed out that even if the landscape is a little repetitive, it is at least a landscape that warrants repetition. The beaches tend to be golden, the seas often clear, the wildlife is prolific and the cliffs tall and sheer. I even enjoyed revisiting the path around Milford Haven, an area that has been blighted by industry and is often both dismissed and missed by walkers, but which I find to be quite interesting.
The towns, too, are largely great. Tenby is my personal favourite – a very pretty place with a great beach – but Pembrokeshire, with its imposing castle, and St David's, the UK's smallest city, both merit a lot of praise. Smaller settlements, such as Porthgain, Angle, Newport and, most exquisitely of all, Solva, are also worth investigating.
So I am happy to concede that describing the trail as tedious is, to an incredibly large degree, unfair. And it's much more likely that my feelings about the last couple of days – and the last one in particular – actually says less about the path, and more about how curmudgeonly I'm getting as I enter my sixth decade.
So I would certainly not use my opinion of the end of the trail as a reason for not attempting this coast path yourself. By all means do come, do bring your walking boots, and I am 95% sure you'll have a wonderful time on the trail. And if you do find yourself feeling a little grumpy and bored as you walk along, well, I think you need to sit yourself down, have a word with yourself – and just be grateful that you don't have a miserable old git like me for company.
[/read]
Is the Pembrokeshire Coast Path for you?
Useful info on the Pembrokeshire Coast Path
Transport to and from the path
Getting to the start of the trail – and getting back from the end – is relatively straightforward, though does usually involve a change of bus and/or train.
To get to Amroth, at the start of the walk, your best bet is to take a train (via Swansea and/or Cardiff) or National Express coach to Kilgetty, around 3 miles away, then walk or catch a bus (currently Taf Valley's 351 service) from there.
At the end of your trek, a fairly frequent bus connects St Dogmaels with Cardigan, where bus services are more plentiful. These include services to Carmarthen, where there are even more bus services as well as a train station (with connections to Manchester). 
Transport along the Pembrokeshire Coast Path
Public transport along the trail is surprisingly good. There is a better-than-expected train service connecting the first few stages of the path between Kilgetty (for Amroth), Saundersfoot, Tenby, Penally, Manorbier, Lamphey and Pembroke.
Milford Haven and Fishguard/Goodwick also have a train service connecting with Carmarthen. 
In addition, there are numerous buses trundling up and down the coast. Be warned, however:
Firstly, these buses do not offer a comprehensive service, and to get to point B on the coast path from point A on the coast path, you often have to travel via point C.

Secondly, the services aren't very frequent, and you may have to wait several hours.

Thirdly, they don't run every day.

And lastly, there are still fairly significant stretches of the path with no service whatsoever. 
Walking the Pembrokeshire Coast Path with a dog
The biggest danger for your dog is the same as it is for humans: wandering off the path when on the cliffs and falling onto the rocks below. But whereas most humans are sensible enough not go bounding off the path in the hunt for a rabbit, or a butterfly, or just for the sheer hell of it, dogs can't be relied upon in these matters.
To be fair to dogs, sometimes it's not clear that there is a steep drop, particularly if they're on the small side and their view westwards is obstructed by bracken and other vegetation.
The solution, as always, is to keep your dog on a lead where the path is particularly precipitous.
It's also a requirement, of course, to keep your dog on a lead through the military ranges; the last thing you want is for your pooch to start digging around an area with unexploded ordnance.
Other than these two dangers, the usual potential hazards apply for dogs: the possibility of being attacked by livestock, the chance that they'll get sick or injured, or that they may pick up a tick along the way. Just read the taking a dog along the trail page and you'll find out how to minimise the risk of these, and what to do if any of them happen.
So where might I get lost? You have to try pretty hard to get lost on the Pembrokeshire Coast Path. Assuming that you start at Amroth, as long as you keep the sea to your left you should be heading in the right direction.
The only exceptions to this are where you are forced to leave the coast, either because the official path leaves it or because the military ranges are closed to walkers and you have to divert around them. But even here, as long as you follow the instructions in the guide book you should be OK. 
The only other places where you will have trouble following the path are when you make your way through the larger towns such as Pembroke, Milford Haven, or Tenby. Here the signposts often disappear. You shouldn't have much trouble rejoining the path as you leave these towns, but it's usually very unclear what the official path through them actually is. Again, just follow the maps and instructions in the guide book, so at least you'll be following our interpretation of the official path (even if it's not the actual, official path!)
Camping and accommodation along the Pembrokeshire Coast Path
Camping This is one of the best national trails for campers, for it's possible to camp pretty much every night in official campsites.
The hostel situation along the Pembrokeshire Coast is  fair, with around half a dozen youth hostels and a couple of independent ones too. A couple of the youth hostels are in quite spectacular locations, too, including one above Manorbier Bay (Lydstep) and one, Pwll Deri, overlooking a lovely stretch of wild coastline.
Note, however, that most of these hostels fall in the latter half of the walk, and for the first half you'll be largely relying on campsites or B&Bs. There is only one hostels for the first 80 miles. Note, too, that some of them have limited facilities so come prepared.
As for B&Bs and hotels, there are plenty of these and some of them are charming. Remember, however, that this is a very popular tourist spot so book your B&B well in advance if you're coming in the holidays.
Facilities along the Pembrokeshire Coast Path
Food and drink Well, you shouldn't go hungry! There are some great pubs and restaurants along the coast. Many of these are in the larger towns such as Tenby, St David's, Pembroke etc. But even in the smaller villages along the way you'll often find a wonderful pub serving food all day. Renowned pubs along the way include The Old Sailors at Pwllgwaelod and The Sloop Inn at Porthgain – you'll need to book in advance for both of these.
What's more, in between these places, on even some of the loneliest beaches you'll find an enterprising local has set up a snack or an ice-cream van, such as the van at St Justinian's or Cafe Môr (see above) at Freshwater West.
Shops, banks and ATMs For the first part of the walk you'll pass through enough towns (Saundersfoot, Tenby, Pembroke, Pembroke Dock, Milford Haven etc) that you won't have too many problems finding an ATM or shop. Thereafter the towns continue to appear regularly (Broad Haven, St David's, Fishguard, Newport but not quite as frequently, so a little planning may be required.
Trekking companies and baggage carriers There are plenty of baggage carriers and trekking companies serving the Pembrokeshire Coast Path.
The only clear and apparent danger is the possibility of falling off a cliff. The trail is surprisingly narrow in places, and the bracken and other plants often overhang the actual path, so you can't actually see where you're putting your feet. Just go slowly and take care.
Most people who do fall off the trail are doing so because they want to get a better view of a beach, or some seals or jellyfish in the water. Just keep well back from the edge. There are seals all along the Pembrokeshire coastline so don't risk your life trying to see them – you'll have other chances later on.
There are a few places where horses and cows graze the slopes. There are signs warning you about them but, in the two occasions I've walked this path (one with Daisy, one without), they've never been a problem. Indeed, often they don't even look up to see who's passing by.
There are not many places where you can get water along the trail so fill up your bottles when and where you can.
There is, of course, the possibility of finding some live ammo on the ranges – just stick to the path and you should be OK (and never, ever go on the ranges when you're not supposed to!)
Know in advance how long your walk is going to be for each day. The last few days in particular are quite lengthy and hard work so you need to be prepared.
But do bear in mind that, despite the above warnings, walking along the Pembrokeshire Coast Path is not that dangerous, and most people who are injured along this trail  are doing something other than walking, such as surfing, kayaking, cliff-climbing, coasteering, tombstoning etc.
1) A lot of people miss out on the first part of the trek, believing that a walk around the oil refineries of Milford Haven is no way to spend their annual holiday. I think this is a bit of a shame, because I think the refinery stroll is an integral part of the whole Pembrokeshire Coast experience, but I suppose that if you do want to stick to just the picturesque parts then the trail tends to get more gorgeous the further north you head, with the most attractive bits around St David's, Solva and Newport.
2) If you're going to take a break along the trail then St David's is the best place to do it in my opinion. You can take boat tours out around the nearby islands to see the seals, and you'll often see porpoises and dolphins on the way too.
3) Bird lovers shouldn't miss the opportunity to take a tour around Skomer and Skokholm Islands. Puffins are the main draw though there's also a significant population of Manx shearwater and the cliffs are festooned with gannets, gulls and puffins.
4) Want to continue your walk beyond Pembrokeshire? The Wales Coast Path is open and, though not a national trail, will convey you up the coast. You can then meet up with another national trail, Offa's Dyke, which will take you back to the country's southern coast, from where you can head west back to the start of the Pembrokeshire Coast Path again!
The Pembrokeshire Coast Path: Further info
The Pembrokeshire Coast Path Guide! 
'The detail on the continuation maps, the wealth of really useful information and the interesting background and historical comment make this a very enjoyable read.' Backpack Magazine
'Recommended' Walk Magazine
'It felt totally alien to be ditching my OS maps after 3 days as they were completely superfluous to requirements given the detail in your guide.' M Davies
Practical guidebook to walking the Pembrokeshire Coast Path. This guide includes maps, accommodation, pubs and restaurants, what to see along the coastal path and itineraries for all levels of Pembrokeshire walks.
This edition includes:
* 96 large-scale walking maps, 10 stage maps with trail profiles showing ascents and descents and the complete Pembrokeshire Coast Path Map.
* 47 Guides to Towns and Villages.
* Detailed accommodation with reviews: B&Bs, campsites, pubs, hotels, bunkhouses.
* Where to eat with reviews: cafes, teashops, pubs and restaurants.
* Detailed public transport information with frequency of services.
* Downloadable GPS waypoints.
* Itineraries for all walkers, for the entire route or day walks, weekends or short breaks.