South-West Coast Path 1: Exmoor & North Devon
The first-leg of the enormous South-West Coast Path is a wild yet pretty march along North Devon's lovely, lonely shoreline.
South-West Coast Path, Part 1: Exmoor and North Devon: The Basics
WHERE: Along the entire length of the North Devon coast
LENGTH: 124.5 miles
TIME REQUIRED:  8-10 days
NATIONAL TRAIL: Not in itself, but part of the huge South-West Coast Path
STARTING POINT: Minehead, on the north Somerset coast, just east of the border with Devon
END: Bude, in Cornwall, just west of Devon.
DIFFICULTY: Short but fairly brutal, with plenty of hills. I reckon the hardest stretch of the entire South-West Coast Path occurs on this section. It is also surprisingly remote in places.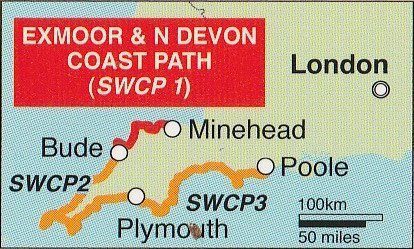 There are probably those who think that coastal walking is easy. That the South-West Coast Path maybe long, but it's just six weeks or so of shuffling along sandy beaches in flip-flops, stopping at every idyllic port and fishing village to plant one's face in rich vanilla ice creams and luscious cream teas. After all, beaches tend to be flat, don't they – so how can these coastal paths be difficult? 
Well this very first part of the South-West Coast Path, along the North Devon coast, will quickly disabuse these people of any such illusions, and make them realise that their preconceptions are just nonsense. (Except, that is, for the bit about ice cream and cream teas – that's largely true) For while beaches are indeed flat, you don't come across many of them on this trail. (And it should be noted that even when you do happen to come to a beach that you have to cross, that's seldom easy either, as anybody who's had to wade through soft sand in trekking boots and carrying a full pack will tell you.)
Instead, for much of the time the path tends to follow the cliff edge above the shoreline. And that is rarely – very rarely – flat. Endlessly gorgeous, fascinating, tranquil and delightful, yes; but rarely flat.
Indeed, the highest point on the entire South-West Coast Path – the Great Hangman, measuring 318m (1043ft) above sea level, occurs on this stretch of coastline. The largest flat section I can think of is in the middle of the trail, where the path takes a diversion away from the coast to head around the Taw Estuary. Either side of this bit is some of the toughest coastal walking this country has to offer.
[read more]
In many ways, this first part of the South-West Coast Path (let's call it the SWCP from now on) provides a good indication of what's to come on the rest of the path: lots of bracing cliff-top marching, and lots of ups and downs, all interspersed with fishing villages and towns that have for centuries made their living from the sea.
But there are some parts of this stroll that are unique to this area of Devon too. For a start, as soon as you leave Minehead you enter into the Exmoor National Park, and as a consequence this part can be said to be wilder and more remote than any other part of the SWCP.
Even when you leave Exmoor the scenery continues to be occasionally exceptional as you enter into the North Devon Area of Outstanding Natural Beauty (AONB). As with all AONBs,  there are some bits that are indeed outstandingly beautiful: the wild section around Hartland and the vertiginous village of Clovelly (where a lot of the BBC series Poldark was filmed) come to mind.
But there are also bits that may indeed be outstanding, but probably not for their beauty. The charms of Combe Martin, for example, completely eluded us. Westward Ho! and Croyde also spring to mind when it comes to thinking of places that disappoint. The latter is a surfing hotspot that has little time for trekkers; while Westward Ho! may enjoy a degree of fame as the only place in Britain with an exclamation mark in its name, but there's little to get excited about in this dreary dollop of static caravans and residential care homes.
Thankfully, there is still plenty of exceptional walking to enjoy in between. What makes the path so exciting for us is the surprises it likes to chuck at trekkers every so often just to keep their mind on  the task. Coming across a resident population of rock-dwelling goats on the cliffs near Lynmouth, for example; the lovely approach to Clovelly along Hobby Drive, a tree-shaded nineteenth-century bridleway with benches placed along the way for weary trekkers; car-free Clovelly itself, of course, a fabulously photogenic fishing village; the lonely Hartland Hotel near the lighthouse at Hartland Point, whose walls commemorate the many vessels that have met their doom there; and lovely Appledore, with its cobbled streets and titchy terraced houses which feels as if it has, so far, escaped the clutches of the tourist trade.
So whether you consider this 124.5mile hike to be a trek in itself, or merely the first part of  your attempt to tackle the entire SWCP, there's much to love about this stretch of Devonian coast. And if it is just the first leg in your South-West Coast Path adventure – well, isn't it exciting to know that there's over 500 miles more of this sort of stuff to come!
[/read]
Is the Exmoor and North Devon Coast Path for you?
Useful info for those walking the Exmoor and North Devon Coast Path
Transport to and from the path
Given how swamped with sun-seekers the South-West of England gets during the summer, it's surprising how poorly served this region is by public transport. Neither Bude nor Minehead have a mainline rail connection (Minehead does have a station, and the rail journey into the town is both picturesque and pointless, for it terminates at a rather obscure place called Bishop's Lydeard – and is thus of little use to anyone but the several hundred residents of Bishop's Lydeard). Your best bet to get to the start of the trail is by train to Taunton (from Bristol, Exeter or London, all of which are less than two hours away), then a 90-minute journey by bus (currently the No 28).
For the other end of the path, take a train to Barnstaple (the only place on the path that does have a decent rail service), from where there's a limited bus service to Bude.
With trains only taking us near to the trail, and not actually on it, so walkers must look instead to coaches, though they are just as unhelpful. Barnstaple, Bideford and Ilfracombe, all on the trail, are served by National Express but not Minehead except in the summer months when they run from Bristol to Minehead Butlins, a mile out of town. At the other end of the path, the most convenient place that's served by coach is Exeter, from where you can catch a bus(currently No 6/6A) to Bude.
Transport along the Exmoor and North Devon Coast Path
Save for Hartland Point, whose nearest bus stop is about 2.5 miles away, most places on the Coast Path have some sort of public transport. So if you're prepared to wait awhile – which could mean several hours – you should be able to catch a bus to somewhere, at some point. All of which makes your chances of getting stuck somewhere gratifyingly slim.
At least, that's the case for most of the week. On Sundays, however, many services stop altogether and those that do run often do so in the high summer season only.
Things are also tricky if you want to get to the start or end of the trail, for while Minehead (at the start) and Bude (at the end) are well connected with places in their own counties (Somerset and Cornwall respectively), they aren't very well connected to destinations in their neighbouring counties – including Devon. So if you need to get to the start or end of the trail from somewhere on the path, you'll probably have to take at least two buses to do so.
As for useful services, well there is usually a service that bounces along the coast through Exmoor, from Minehead to Ilfracombe (currently the No300), and there's usually one that runs to most destinations  between Ilfracombe and Westward Ho! including most destinations on the Taw River. Finally, there is also usually a service from Bideford on the Taw River all the way to Bude via Clovelly and Hartland (but not usually Hartland Quay).
Walking the path with a dog
Our advice on this part of the South-West Coast Path is the same as it is for the other parts too. Firstly, make sure your dog is fit enough for this expedition – it's quite tough going. Secondly, bring a bowl and plenty of water for your pooch (and plenty for you too); it can get very hot on those cliffs and dehydration can be a real issue. Thirdly, there are plenty of places where your dog could drop to his or her death. Most dogs have some sort of sense of where the edge is and what will happen if they go over it – but some, it would appear, don't. This is particularly true if they've got the smell of rabbit in their nostrils (a rabbit that's doubtless been living by those same cliffs all its life, is well-educated in the perils of going too close to the edge, and who will probably be sniggering behind a gorse bush as your hound, tongue flailing helplessly, plummets to its doom.) If you've got a dog like that, keep it on a lead.
You may also want to keep your dog on a lead as you round the Taw Estuary – there are plenty of cyclists on this flat bit of trail, and plenty of birds out in the mudflats too. Not to mention all the cow fields you're expected to cross…
Two other pieces of advice: firstly, before walking on a beach with your best friend, make sure you find out the rules. Most beaches ban dogs during the high season (May-September) but, if the South-West Coast Path crosses them, will allow you to walk your dog across them as long as they are kept on a lead and you make your way across the sand as quickly as possible. Others will have some section set aside where you can walk the dog. Go on a section of the beach where dogs aren't allowed and you risk a fine. And always, always clean up any mess from a beach: you'll be really unpopular if you don't.
Secondly, don't forget your tick remover: Daisy collected a few passengers on her jaunt along the SWCP and, though she never contracted any nasty diseases from them, Lyme disease is prevalent in that part of the world.
So where might I get lost? As you'd expect from a walk that is part of a National Trail, the signage on the Exmoor and North Devon Coast Path is pretty good. Add to that the fact that you'll be keeping the coastline on your right-hand side for almost the entirety of the walk (assuming you're walking west from Minehead, that is) and you'll understand why I think it's pretty difficult to get too lost on this trail. That said, sometimes the signposts are missing or are confusing, but have a good map with you (or, better yet, the guide book of course!) and you shouldn't go too wrong for too long. 
Camping and accommodation along the Exmoor and North Devon Coast Path
Camping You can pretty much camp every night that you're on the trail, and in some places camping is the most convenient option. At Porlock, for example, the campsite (Sparkhayes) is closer to the trail than any B&B. You'll need to plan where you're going to camp when you're tackling the Taw Estuary – there's a campsite at Chivenor but then nothing until Northam, which is beyond Bideford and a mile and quarter off the trail. But with some judicious planning you should be under canvas most nights and possibly all of them.
Hostels and bunkhouses The hostel situation is rather average, however, with five along the trail, including one at the beginning in Minehead and one at the end in Bude. Ilfracombe and Croyde both boast independent hostels, and the only other place is Elmscott, though this is  a couple of miles from the trail.
As for B&Bs and hotels, there are plenty of these and some of them are charming. Remember to book your B&B well in advance, however, particularly in summer – it can get very busy. And remember to warn them if you're travelling with a dog, because it might just be a deal breaker.
Facilities along the Exmoor and North Devon Coast Path
Food and drink You won't go hungry along the Coast Path. Tearooms, in particular, sprout up every few miles or so and are a great way to ensure you gain weight rather than lose it on the trail. Some of the bars and pubs, too, are fantastic places to eat in the evening – my favourite was the Hartland Quay Hotel, near the lighthouse, which served lovely grub in atmospheric surroundings. Slightly cheaper, there are several chippies along the path too.
Shops, banks and ATMs Most places have some sort of cash machine though in about half of these places there is a charge for using them. Most have a shop/grocery store of some sort too, but only the larger places – Minehead, Ilfracombe and Bude – have anything approaching a shopping centre or High St where you actually get a choice.
Trekking companies and baggage carriers The appropriately named Luggage Transfers are the biggest baggage-carrying operation on the South-West Coast Path. This section of the national trail, however, is rather more tricky for these carriers than the later stages, though all places are covered as long as there's a road to them. There are also lots of companies offering self-guided tours.
This walk is largely cliff-top walking so there is often going to be a severe drop on one side; if it's really steep or the edge is close to the trail then there'll be a fence separating you from a messy end.
Perhaps the biggest danger on the trail is dehydration. There are some remote stages and while it's tempting to fill up your bottles from streams, the water in many of these is not potable.  So don't let yourself get into the situation where this may be a tempting option, and instead take enough water bottles to carry three litres. For most of the time you won't need anything like that much, and three litres of water is 3kg in weight, so you won't want to fill all of them up every morning. But on the remote sections they could be godsends.
Other dangers? Well there's the usual cow fields that you have to cross. There are also the feral goats of Rocky Valley, outside Lynmouth. None of these are dangerous, of course, but the proximity of high, sheer cliffs alongside animals that are famous for charging and ramming at those who get too close is, I suppose, a potentially dangerous cocktail.
1) Savour the silence; if you're continuing into Cornwall on the South-West Coast Path and it's the summer holidays you'll look back with fondness and yearn for the tranquillity this trail provides.
2) As mentioned above, make sure you enough water with you for the remote sections.
3) There are alternative routes on a couple of stages; none of them are particularly huge but read the guide to see which ones I recommend.
4) There's a temptation to try to cover the Taw Estuary section, from Woolacombe to Westward Ho!, in just two stages. After all, it's nearly 40 miles long but mostly flat and the faster you do this more mundane stretch of walking, the quicker you'll be back on the spectacular stuff. But if you can afford to take three days, I recommend you do so: the towns round the Taw are interesting and deserve more than just a brief perusal. Furthermore, if you do complete this stretch in two days, you risk knackering yourself out for the final three stages from Westward Ho! to Bude – which is the most strenuous section of the path.
The South-West Coast Path, Exmoor & North Devon: Further info
'…excellent guides to the trail' The Independent
'…crammed with practical information on the route and local amenities, wildlife guides and detailed maps.' Walk Magazine
'…Packed with information and excellent hand-drawn maps, these are essential companions.' Wanderlust
All-in-one guide to walking Exmoor & North Devon Coast Path, the first section of the South-West Coast Path National Trail.
The walking guide includes:
* 68 large-scale walking maps, guides to 30 towns and villages, 8 stage maps and 2 overview maps;
* Places to stay with reviews – campsites, hostels, B&Bs, guesthouses, hotels;
* Places to eat with reviews – cafés, tearooms, pubs, takeaways, restaurants;
* Attractions along the way – historical, cultural, natural;
* Detailed public transport information showing access points on the path;
* GPS Waypoints;
* Itineraries for all walkers for the entire route or day walks, weekends or short breaks;
* 40 colour photos and a 3pp colour flower guide.