WHERE IS IT? A trek that runs south-north along the backbone of northern England before crossing into Scotland.
WHAT IS THE LENGTH OF THE PENNINE WAY? 253 miles (407.5km)
HOW LONG DOES IT TAKE TO WALK THE PENNINE WAY?  13-24 days
IS IT A NATIONAL TRAIL: Yes
WHERE DOES THE PENNINE WAY BEGIN? Elongated Edale, a small place with its own railway station in Derbyshire.
AND WHERE DOES IT END? Kirk Yetholm, a few miles north of the border in Scotland.
HOW HARD IS THE PENNINE WAY? Very tough. Though it may be less than half the length of the South-West Coast Path, I still think this one's tougher, with some huge hills and scant signage.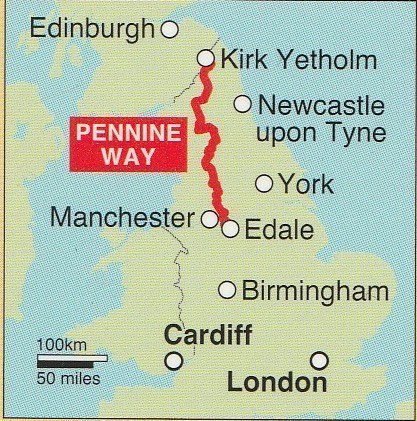 Welcome to Britain's oldest official National Trail – and it's an absolute monster! A quick search online of people's experiences along the Pennine Way will give you a flavour of what awaits those who dare to pit themselves against the most savage of all the long-distance trails.
Stories of knackered dogs and fathomless bogs. Of overly curious – and often furious – livestock. Tales that recount walking in storm, hail, sleet and snow. And of trekkers who give up, cowed and crushed by exhaustion, heatstroke, injury, illness and blisters the size of saucers.
As the great Alfred Wainwright himself said:
"I finished the Pennine Way with relief, the Coast to Coast Walk with regret. That's the difference."
And I won't lie to you: There is no trail that will test you more than this one. Because if you're going to drag your sorry carcass from Derbyshire to Scotland then you'll need calves of steel and an iron will – for this is a trail that will truly test your mettle.
It's a path that will conduct a thorough audit of your fitness. That will examine your endurance and study your stamina. That will scrutinise your skills at navigation and orienteering, and pick away at your prowess for planning. Fail in any one of these areas, and you'll fail to reach the end of the trail. Or at least, you'll have a highly unpleasant time getting there.
So why, given all the hardships that you may have to endure just to complete this trek, would anyone want to attempt it?
[read more] Well, because, in our opinion, the oldest National Trail in England and Wales is also the best national trail. No question.
Why do I think that? Well, maybe it's just because I was lucky when I finally got to walk the walk in 2018. Where many people talk about the appalling weather they suffered on their hike, myself and Daisy were fortunate enough to walk in a heatwave, when nearby Saddleworth Moor was ablaze and the mercury regularly tickled the thirty-degree mark.
I was also lucky enough to walk outside of the summer holidays (I hiked in late June), when the path is that much quieter. And there's no doubt, too, that the path has been much improved since its inception in 1965, and many of the boggiest parts now have paving slabs across them. These not only prevent further erosion of these delicate landscapes, but also ensure that trekkers don't step into treacherous mud, and, moreover, are able to keep to the correct path.
So I am happy to admit that I was very fortunate when I walked the Way. It was one of those treks when every thing just clicked and came together.
But I have a feeling that, even if it didn't, and the rain lashed down and myself and Daisy spent the entire time being chased by cattle, going hungry and sleeping rough, I'd still have enjoyed it. Because the Pennine Way is such an adventure.
That adventure begins in Edale. This place is something of a pilgrimage for British trekkers, as the nearby Kinder Scout – the first serious climb on the trail – is famous as the place where, in the 1930s, a group of local ramblers gathered to take part in what later became known as the 'Kinder Mass Trespass' to protest against being denied access to areas of open country.
Once you've reached the summit, you leave the crowds behind and the adventure truly begins. Passing through Derbyshire, Lancashire, Yorkshire, Cumbria, County Durham and Northumbria, you'll spend the next two or three weeks negotiating the various vertebrae of England's backbone. In doing so, you pass through no less than three national parks – Peak District, Yorkshire Dales and Northumberland – as well as the Cheviot Hills in Scotland.
Manage to complete it all and, according to Wikipedia, you'll have negotiated 287 gates, 249 timber stiles, 183 stone stiles and 204 bridges. You'll also have walked alongside, and then crossed, a very decent slice of Hadrian's Wall too.
All of which is very impressive, but it's the stuff that hasn't been made by man that is most impressive. The dramatic cliffs at Malham, where falcons dive headfirst – at speeds that no other living creature can muster – for their supper. Or the wonderful High Cup, the most perfect glaciated valley in northern England. There are also the mighty waterfalls of  Hardraw Force and High Force (stand alongside either of these, take in their power and fury, and you'll fully appreciate why the locals christen them 'forces'.)
Plus, of course, there is the mile after mile of bleak but breathtaking moorland and fell which make up the majority of the trail.
It truly is the finest walk in England, and one that encapsulates pretty much everything that is great about trekking in this country. And I urge you to try it for yourself. Just make sure you attempt some easier paths first. Because this is not the place to start your life on the trail.
[/read]
Is the Pennine Way for you?
Useful info on the Pennine Way
Transport to and from the Pennine Way
It never ceases to amaze trekkers that Edale has a train station that links it to both Sheffield and Manchester. As such it's the most popular way of reaching the start of the trail.
With Edale being so popular with visitors, parking is scarce and the car park doesn't allow vehicles to be left overnight. Nor can you park on the street. A couple of farmers, however, do allow you to leave your vehicle for a few days for a small charitable donation – I write about one of them in the book.
Unfortunately, Kirk Yetholm is much more difficult to get away from. There is a bus but it connects you with Kelso, further into Scotland, and the chances are that if you want to head back into England then you'll have to take another bus which takes you to Edinburgh, where of course transport connections are much more plentiful. So basically, if you need to get back to England at the end of your trek, count on it taking most of the day.
Transport along the Pennine Way
You're not going to be surprised when I tell you that public transport along the Pennine Way is rather sparse.
But its worth remembering that you do pass through or near some fair-sized towns every so often – Hebden Bridge, Haworth, Hawes, Middleton-in-Teesdale, Dufton, Alston and Bellingham – which all have a bus service of some description. Some of the tiny settlements in between these places also lie on a bus route – though those services may run only on market days (ie once a week).
Walking the Pennine Way with a dog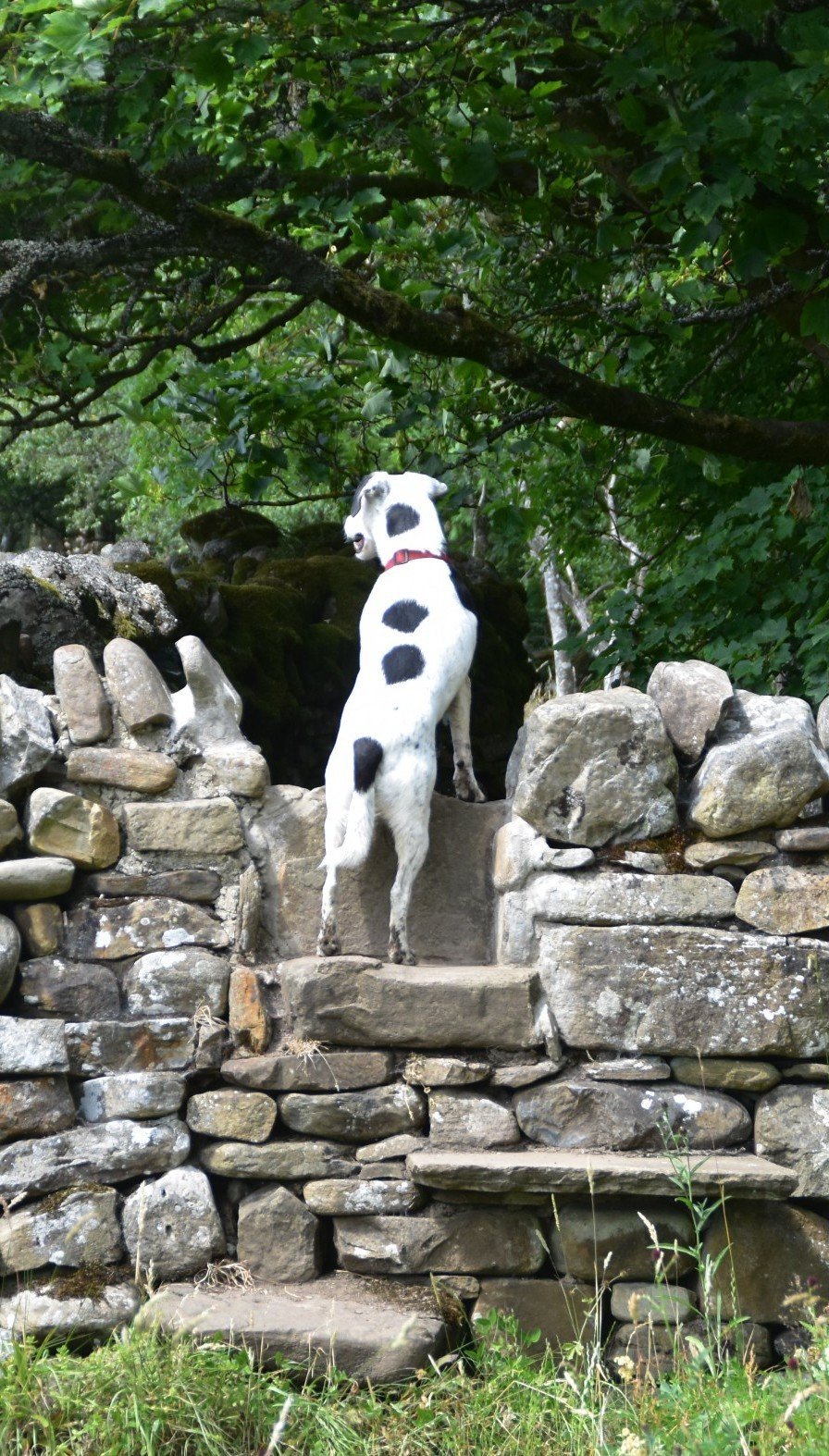 I don't care what breed of dog you have or how fit you think it is – this trail is going to test him or her to its absolute limits. Daisy had already completed two trails earlier in 2018, the Cleveland Way and the Cotswold Way, which were her 10th and 11th long-distance trails. But even she struggled with the length of the Pennine Way.
It's true that I was doing twenty-plus mile days throughout the walk. It's also true that I completed the walk during a drought. These are conditions that would test even the hardiest of hounds. But it was the first time I'd really seen her showing signs of tiredness at the end of some of the longer days. And at one point I rested for a day at Middleton-in-Teesdale to give her time to cool her paws.
One thing that you must bear in mind is that water on some of those moors can be very scarce, and often undrinkable too. So, unlike many other trails, you can't rely on your dog finding water to drink along the way. You'll need to carry some for him/her which is of course going to increase your burden (or theirs, if you have one of those doggy backpacks where they carry their own kit).
Don't assume that your dog is fitter than you, either, just because they appear to be. They may be built more for speed than endurance and, as a result, may find the Pennine Way tough going. Whats more, if your dog is anything like Daisy then for every ten miles you do, they'll do about thirty, what with all the running back and forth they indulge in along the trail. Bear this in mind when calculating how many miles you can realistically cover each day.
Other risks for Rover? Well there are ticks on the moors and in the long grass so do bring a tick remover with you. You need to plan very carefully where you're going to buy dog food too, and how much you'll need to carry, for you won't pass a shop every day. Oh, and there's the usual stuff about being careful near livestock, and keeping your pet on a lead when crossing areas where birds are nesting on the ground.
As you've probably guessed from the above, taking a dog on the Pennine Way is full of potential hazards and is not something to be undertaken lightly. But if you're sensible, honest about your dog's fitness, both have experience of a long-distance trail, plan carefully, and have luck on your side, then there's no reason why your hound, like Daisy, won't be the proud owner of a Pennine Way certificate at the end of it all.
So where might I get lost? From the first day, walking up from Edale, to the last day's yomp into Scotland, there are opportunities to get hopelessly lost on every day of the walk. 
One might almost say that that's the point of the Pennine Way. Certainly the authorities, uniquely for a national trail, have been miserly with their signage. It's almost as if they want you to work things out for yourself, to use common sense and  compass to get you along the trail. 
So it's pointless my telling you where you could go wrong. All I can do is advise you to take a compass (and not just a GPS), keep your wits about you, and be prepared to experience, on a daily basis, that uncertain feeling that comes with choosing a path using only the orientation skills – and without the comforting confirmation provided by signpost and waymark.
It's slightly unnerving, no doubt. But it's also quite thrilling, and the sense of achievement at the end of a successful day's trekking is that much greater than you'll get on any other trail. That much I promise.
Uniquely, this is one trail where I recommend you take the OS maps (or at least photocopies of them, as there's an awful lot of  them required for this trek) as well as our book. I did, and although I didn't refer to the OS maps very often, they are at least another source of information to help keep you on the straight and narrow (path).
Camping and accommodation along the Pennine Way
Camping I know it's illegal, at least while you're in England, and I wouldn't for one minute recommend that anybody does this…. but I've heard that the Pennine Way is the best national trail to do some wild camping. Those wide open, lonely spaces provide campers with plenty of secluded spots to put up a tent for the night, well away from anything or anyone that could disturb your sleep. Just make sure you have everything you need (including water, of course) and remember to leave no trace.
For those who want to keep to the right side of the law, there are a decent number of official campsites along the way too. And these are supplemented by more bunkhouses, camping barns and hostels than you've any right to expect given how remote this trail can be. Just remember to book in advance, particularly if you have a canine companion with you.
As for hotels and B&Bs, these are dotted along the trail too – again, booking in advance is vital.
Facilities along the Pennine Way
There are plenty of shops along the way but there are significant stretches where there are none, so, as always with the Pennine Way, its vital you plan ahead. The same applies to cafes, pubs and restaurants: there are plenty of them, but make sure you know where the next one is – and its opening times – to ensure that you don't go hungry.
Cash machines are confined to the larger towns. Post offices thus provide a vital service, offering cash withdrawals.
Trekking companies and baggage carriers There are lots of companies offering self-guided tours and baggage carrying services and they can prove to be a lifeline if you're struggling along the way. Check out our list in the guide book or do a search online.
1) The number one danger on the trail is that of exposure. There is so little shelter along the way that if it turns too wet or cold (or too hot  – it can happen!) then there's often nowhere to hide. Just make sure you've got some dry, warm clothes, decent waterproofs, plenty of suncream, a sun hat, long sleeves and loads of water and you should be fine.
2) In trying to get that perfect shot of High Force don't shuffle too close to the edge  – its a big drop and a fast river at the bottom.
3) Always carry some chocolate, a banana or some other high-energy food – it may prove a life-saver.
4) Blister plasters are a must. You may not have got any blisters from your boots before, but you've probably never walked this far in them either.
5) That standard advice about carrying a whistle and giving your loved-ones a copy of the itinerary you intend to follow – you know, the stuff you usually ignore? Well don't ignore it on this walk.
1) Break up walk into two or more visits.
2) Carry a spare set of batteries for your torch etc – and a power/battery pack for your phone too. They could prove vital.
3) After leaving the Calder Valley you'll soon see signs pointing to what they promise will be an Aladdin's Cave of treasures. This is Highgate Farm, run by the redoubtable and venerable May Stocks, who's met most of the Pennine  Way walkers over the past few decades. The shop is perfect for those who didn't schlep into Hebden Bridge the night before, and the shopkeeper herself is always great for a chat. And it also breaks up one of the steepest ascents of the whole trek!
4) Allow more time than you think you need. The majority of this trail is very exposed and you don't want to be walking it when it's raining – which it very often is.  Have another coffee, finish the crossword and wait for the rain clouds to pass over before heading back on the trail.
5) At the risk of sounding like a salesman, the Trailblazer guide to this trek is even more vital for this walk than it is for the other trails. The Village & Town  facilities table is perfect for helping you to plan your itinerary and work out where you're going to eat, sleep and shop over the course of your adventure.
6) Given how difficult it is to get away from Kirk Yetholm at the end of the trail – and how well connected Edale is by comparison – there is a good case to be made for doing this walk in reverse, ie starting in Kirk Yetholm and heading south to Edale. It certainly makes getting to and from the trail rather easier.
The Pennine Way: Further info
It's only right that the most glorious of National Trails has its own dedicated Association. Sadly, after so long, the Pennine Way Association closed in 2015 but the website remains and is still well worth looking at.
The Pennine Way Guide! 
'The Trailblazer Guide appears to be the preferred choice of most walkers. The maps which are hand written on a scale of 1: 20,000, are top class. Pennine Way Association
'Recommended guide' —Walk, the magazine of the Ramblers
Comprehensive, all-in-one guide to walking the Pennine Way, Britain's oldest National Trail.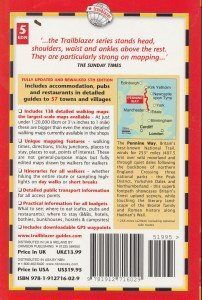 The walking guide includes:
* 138 large-scale walking maps at just under 1:20,000 – showing route times, places to stay, places to eat, points of interest and much more.
* Town plans, colour stage maps and altitude profiles of the entire way 
* Places to stay with reviews Pubs, hotels, B&Bs, hostels, bunkhouses, campsites.
* Places to eat with reviews Teashops, cafes, takeaways, pubs, restaurants.
* What to see along the way Historical, cultural and geographical background information.
* Itineraries for all walkers Whether walking the route in its entirety over a week to 10 days or sampling the highlights on day walks and short breaks.
* Comprehensive public transport information For all access points on the path.
* Flora and fauna Four page full colour flower guide, plus an illustrated section on local wildlife.
* Green hiking Understanding the local environment and minimizing our impact on it.
* Downloadable GPS waypoints.
* The information is written onto the maps, so walking directions, tricky junctions, places to stay and eat, points of interest and walking times are all written onto the maps themselves in the places to which they apply. The maps are not general-purpose ones but fully-edited maps drawn by walkers for walkers.